Welcome back,
If you are one of the many recent readers who have taken the time to emailed me looking for more information about the Mobile Home Formula, my online mobile home investing training platform, then first I want to say thank you from the bottom of my heart for your interest and the possible future trust you are considering placing in me. This trust and opportunity to teach you is not something I take lightly. It is my goal to shortcut your success and help you avoid the mistakes I have made throughout my decade long carer. Please see an updated list of a few successful members using the Mobile Home Formula.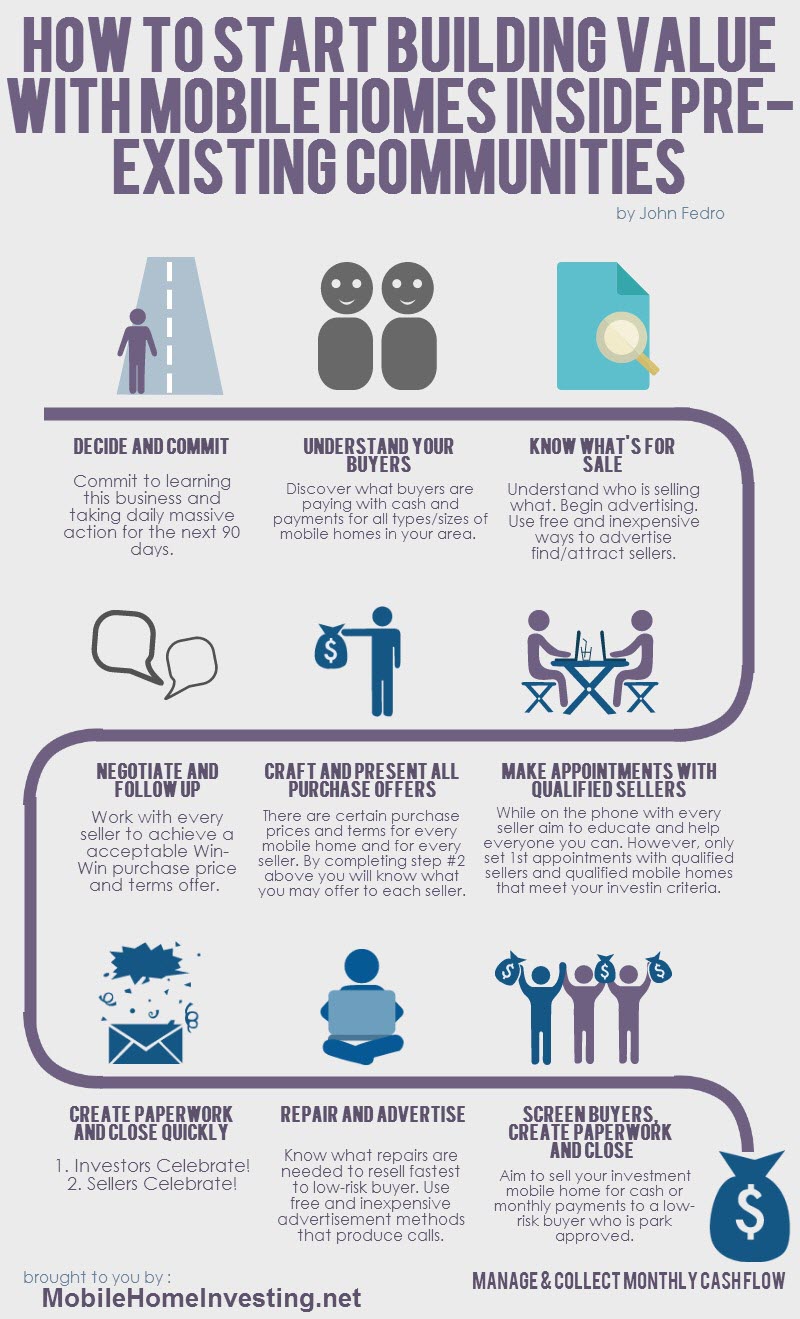 Below is a quick video tour for you concerning the Mobile Home Formula.
Module 1

Module 1 Overview
The Three M's
Mobile Home History
Singles, Doubles, and Triples
Four Levels of Learning
Interior Walk Through
Exterior 101
Common Community Restrictions
Lack of Traditional Financing for Qualified Buyers
Identification
Natural Disasters
Mobile Home Title(s) and MCOs
Statements of Ownership and Location
Start Building Your Buyers List (Become a Local Expert) & Alternative Methods
Pre-Screening Buyers Automatically
Lead Magnets: An Introduction
Setting Realistic Goals
Raising Investment Capital
Lead Magnet: (3 Minute Leads)
The Ultimate Business Card Template
Know Your Target Parks
Action Assignments Module 1
While Driving Only Stop to Meet Park Managers If…

Module 2

How We May Choose to Make Money When We Sell
4 Irrefutable Traits of a Successful Investor
3 types/Stages of Sellers
How Others See You
Power Position
Game Plan
Rating Each Community
Rating Each Home
First OUTBOUND Call to a Seller – Dissected
Using Your Questionnaire
First Call Q&A
Emails to Non-Appointment Sellers
Lead Magnets (Set 1)
A Case of the Too Desperate Seller
How to Transfer Title in My County – Test Run
Misc Info and Landlord/Tenant Laws
Action Assignments Module 2

Module 3

Module 3 Game Plan
Meeting the Park Manager – Warm
Meeting the Sellers
Checklists and Repair Cheat Sheet
How Much Can You Resell this Home for?
Create 3 Purchase Offers Per Home
Present Offers to Sellers
Live Examples: Making Your First 3 Offers to Each Seller
Partnership Purchase Offer in Parks (For Most FSBO with High Monthly Fees)
Make This Offer to Every Seller Asking Over $20,000 (Only if you went to an appointment with this seller)
Negotiation Examples
Help Remembering When to Follow-up with Past Sellers
Applying at the Park
Verifying (Personal Property) Taxes Have Been Paid
Purchase Forms: Mobile Homes in Parks
ALL STATES Closing & After Closing Procedure
Personal Property Trusts (+ Forms Needed to Sell)
California Title Transfer (Before and After Closing Specifics)
Texas Only – Pre-Closing Procedure
Texas Only – Purchase Forms, Closing, and Post Closing Procedure
Vermont Title Transfer: Before, During, and After Closing
New Hampshire: Before, During, and After Closing Procedure
West Virginia: Before, During, and After Closing Procedure
Case of the Unhappy Lien Holder
Action Assignments Module 3

Module 4

Module 4 Overview
What Repairs to Make
Repair Examples
Your Ideal Buyers
Clean and Market the Home for Sale
Marketing the Home – Blitz
Automated Selling Funnel in Parks
Background Check
Property Insurance Once Sold
Approved Approved! Set up Closing Time
4 Ways to Make Profit
Selling Cash-Flow #1. Core Selling Paperwork
Selling Cash-Flow #2. Selling Addendums
Selling Cash-Flow #3. Buyer;s Repair Agreement
Closing at the Mobile Home (Selling)
New Hampshire: Selling a Mobile Home in a Park [Cash or Payments]
Collecting Payments
Management 1 and 2
Transporting a Mobile Home
When Your Buyer Completes All Payments to You

Module 5

Module 5 Overview
Manufactured Homes on Land 101
Familiarize Yourself With Your Farm Area
Lead Magnets (Set 2)
"Mail Merge" Time Saver for Mailing Letters
Become an Expert in Your Area for Mobile Home Buyers (for Land)
Action Assignments Module 5

Module 6

Module 6 Overview
Know Your Exit Strategy
First Phone Call To and From Sellers (2 videos)
How to Estimate "After Repaired Value" (Finding Comps)
Subject To (Intro)
Land Trust Agreements
8 Steps of a Successful Subject to Deal (Birds-Eye)
Important Mortgage details and "The Due on Sale Clause"
Verify Mortgage Info and Property Taxes
Action Assignments Module 6

Module 7

Module 7 Overview
First Meting with the Seller
Checklists and Repair Cheat Sheet
Creating Your All Cash Offers
Creating Your Payment Plan Offers
Word Problem
Present Crafted Offers to Sellers
Second Meeting with the Seller
Follow Up Campaign
Closing Procedure When Buying with Land
Wholesaling Mobile Homes on Private Land
Intro to Closing Documents
Lead Magnets (Set 3)
Action Assignments Module 7

Module 8

Module 8 Overview
Creating Your Closing Paperwork (Buying with Payments)
Creating Your Closing Paperwork (Buying with Cash)
Closing Procedure
Marketing the Home – Blitz
Finding Sellers- Additional Magnets that Get Results (Set 4)
Action Assignments Module 8

Module 9

Module 9 Overview
Selling Strategy on Land
Selling Price and Terms
The Automated Selling Process on Land
What Repairs to Make
Repair Examples
Buyers Objections and Concessions
Your Ideal Buyers
Collecting Payments
Background Check
Selling the Property for All Cash
Creating Paperwork and Signing (Selling with Payments)
Taxes and Insurance on Land
Management on Land
Closing on the Property (After 24 Months of Payments)

Bonus

Lease with Option to Purchase when Selling in MH Park
Wholesaling Mobile Homes Inside Parks
MAO in Parks = Maximum Allowable Offer
Subject 4 Purchase Technique on Land
1031 Exchange Introduction and FAQ
Marketing Tools for Finding Sellers

Unlimited Email Coaching

Access to Future Classes
Past VIP Group Coaching Calls and Lessons
For more information click the "Training" Tab above. Whether you get started in mobile home investing with my help, someone else's help, or through your own "school of hard knocks" I wish you the best of success. You can succeed as long as you never give up. Always give daily action and do not be afraid to ask for help. If you have any questions or concerns do not hesitate to reach out to ask for help.
Love what you do daily,
John Fedro
support@mobilehomeinvesting.net
Related Mobile Home Formula Review videos: