Would You Like To
Follow A Proven Training System
&
Build Yourself A Cash-Flowing MH Investing Portfolio
?
The Secret Training System That Has Taken Over A Decade To Create Can Now Be Yours While Market Saturation Is Low.
"If That's You... I Will PERSONALLY Work With You
One-On-One

 Via Email In Your Business To Help You Implement Our Strategy To Buy, Resell, and Dominate Your Local Market Over The Next 12 Months and Beyond!"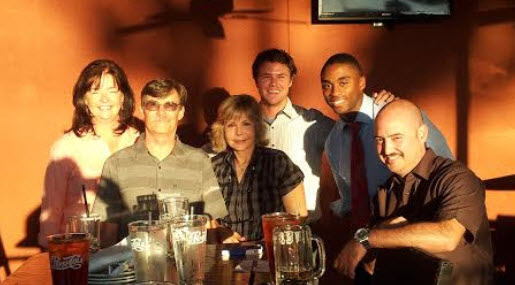 Mobile home investing takes effort to build up a passive income of $1,000, $3,000, $5,000 or more month after month. Every deal you buy and resell is another quality mobile home added to your portfolio that takes you closer to your cash-flow goal.
Over the past 7 years real estate investors have trusted and used the procedures and step-by-step methods taught in the Mobile Home Formula's online training program. If you are serious about generating passive cash-flow with mobile homes this program below can work for you too.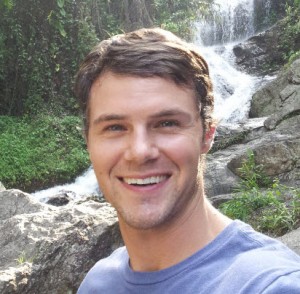 On this page you'll find a NO B.S. methodology and action-oriented training program that forfeits hype and flashy sales techniques in replace of high quality content and daily real time support given to every serious mobile home investor following the Mobile Home Formula's training.
I believe that there has never been a real estate training program created that will answer all your questions getting started and growing your cash-flow business. That is why we provide unlimited 1-on-one email coaching with every purchase. Get your questions answered and deals reviewed in real time.
Our results speak for themselves so read through this entire page and consider the training as serious as a college degree. If you are serious about building a sustainable ongoing business with a huge niche of real estate other investors turn their noses up to then the Mobile Home Deal Maker Formula is right for you.
Here's How You'll Be Learning! Video tour...
Immediate Access To All These Features
Step By Step How-To Videos

Quickly make your way through over 110 bite-sized step-by-step video tutorials and lessons that teach everything you'll need to have confidence and take action today. Specific state by state tutorials for various states with unique laws and procedures are included whether you're investing locally or nationwide. Lessons at the end of every Module contain action steps for building your cash-flow business safely and quickly.

Stay On Top Of Your Business

Use and implement every checklist, cheat-sheet, and script we use to manage and stay on top of your leads, incoming calls, outgoing calls, purchase offers, followups, handyman, tenant-buyers, and much much more.

Learn From Real Calls With Buyers and Sellers

Listen in to actual calls with buyers and sellers made by an expert. Listen and copy our offer making procedures, buying negotiations, followup calls, and selling scripts. Copy what is working today. There is no need for you to worry about making a mistake or reinventing the wheel with a seasoned mentor on your side daily.

Lifetime Membership and Upgrades

When laws change or our procedures are tweaked you get instant alerts to these changes. Lifetime membership and access to upgrades lets you rest at ease that you always get the latest up-to-date education and advice offered.

Deal Review and Purchase Offer Assistance

You are encouraged to email over all your pictures of very mobile home you walk through and receive real-time advice on repairs, purchase offers, tips, tricks, additional feedback, pros and cons before you make any purchase offers. You're never investing alone once a member of the Mobile Home Deal Maker Formula.

Unlimited 1-On-One Email Coaching

Receive emails direct from John and other seasoned experts daily to get your questions answered, provide motivation, keep you on track and have a coach in your corner every step of the way.
Contract and Agreement Library

Over 50+ forms, scripts, contracts, Trusts, agreements, and much more give you access to everything we use on a weekly basis to build our mobile home investing businesses successfully. Each form includes 3 formats to work with Mac and PC. Every form comes with a filled in demonstration version and easy to follow instructions to fill in each form so you'll never be confused.

Daily Access To Active Members and A Live Mentor

Once a member of the Mobile Home Formula you will have immediate access to email John and join our member's only Facebook group to build your network of other successful mobile home investors investing today. Get your questions and deals looked over in real-time by seasoned investors that want to see you succeed. You are never by yourself in this business with the Mobile Home Formula.

Additional Bonuses

Free Bonuses include access to 50+ additional methods to attract and find sellers, using 1031 exchanges to keep more of your profits, our private Subject 4 purchase technique requiring no money to buy mobile homes on land, how to wholesale mobile home purchase contracts inside parks without closing, and much more.

Partnering and Money Lending Available

After your first few deals you will be invited to borrow capital and partner if needed to help you grow your business even faster. These partnerships can allow you to close more deals than with your own capital alone. Included with our partnering and money lending program you'll be given any help managing and securing deals needed. Your 1 stop shop for adding more mobile homes and cash-flow to your portfolio.

Prerecorded VIP Group Calls

Listen in to our past group calls where we discuss advanced investing topics and how-to procedures. During group calls members have a chance to ask questions, present deals, and reveal what is working best in their areas. Over 30+ high quality calls included.
(Watch The Short Videos Below To See The Level Of Personal Coaching You Can't Get Anywhere Else)
Determination
Determination is without a doubt a must have. Investors that will commit 15-20 hours per week to their businesses and continually ask for assistance will prevail. From our experience this determination comes from a deep-seeded goal and burning passion you already have to achieve your financial goals. Over the next few months you will be asked to make sacrifices in the name of more cash-flow and a better financial future for you and your family.
Available capital in 3 weeks
Approximately 3 weeks after getting started we will have identified almost every mobile home and seller in your local 50 mile radius. We will also have scheduled appointments and made purchase offers to many of these sellers. We will know which homes to capitalize on and move forward quickly. As I have stated previously on this website, a reserve of $2k-$5k is asked of you to make both your start and progression quick and efficient. If you do not have this capital available currently there are still action steps to complete while saving this investment capital.
Low-Pressure Personality
The sales style I teach and use in my own mobile home investing business is a low-pressure style of educating sellers and closing deals. If you have been described as forceful or impatient this may not be the best fit for you. I do not mean to discourage anyone and indeed all traits have their merit. However this is a people business and if you enjoy helping people while creating income for yourself this is the right fit for you.
Strong Listening Skills
Every Module of he Mobile Home Formula is packed with lessons and videos training you to perform specific actions. These lessons go into detail and have been tweaked over years to work with every learning style. At the end of every Module are Action Lessons that ask you to complete the action-tasks you've been practicing and learning before moving to the next Module. Following these steps in chronological order is key to your success in this business. Do not reinvent the wheel, simply duplicate our proven formula for success.
Remember, In my Formula training, you're getting the benefit of my 10 years of proven success – transferred to you – so you'll absolutely know:
Which Properties are the ones that make the most money
Which Properties to Avoid
How and Where to Find Motivated Sellers
What to say to Sellers and What to Ask
How to Attract Loads of Qualified Buyers Automatically
How to Screen Buyers So You Only Deal with the Best
How to Show your Properties Without You Needing to Be There
Where to Place Your Ads and Exact Ad Copy To Use
Exactly How to Structure Your Deals for Profit
The Exact Dollar Amounts to Use for Terms Depending on the Situation
The Legal Paperwork You'll Need (We provide most of it for you).
How to Guarantee Your Property Will Sell Quickly Before You Buy
How to Virtually Eliminate Risk of Non-Payment from Your Buyers
An Exact Plan for Making $100k Your First Year
And much more . . .
The Gold Package covers everything you need to buy and sell homes inside community mobile home parks. Total price for the Gold Package is a one-time $1,497. The Platinum Package includes the Gold PLUS everything you need to buy and sell manufactured homes on private land – so that you will be able to deal with 100% of the mobile home market in your area.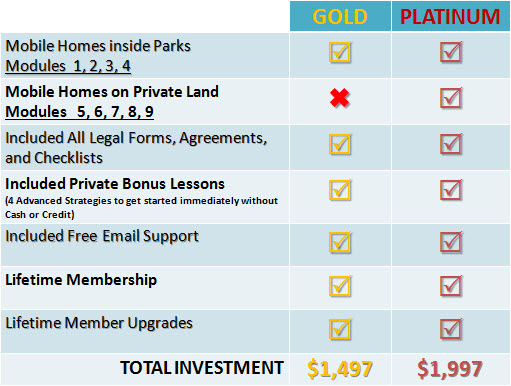 The Additional Profit Potential of the Platinum Package
While you can do VERY well for yourself by only focusing on mobile homes in parks, you're leaving A LOT of money on the table if you're not prepared to take advantage of the even more lucrative mobile homes on LAND. Here are some important facts to consider:
75% of mobile homes are attached to private land the owners own. That may surprise you as most people only notice mobile homes in parks.
Mobile homes on private land are just as undervalued by other investors as homes in parks.
Payment terms are as long as 30 years! 15-30 year payments are typical for mobile homes on land, meaning you will be receiving cash-flow for the next 15-30 yrs on these deals!
Many mobile homes on land have no mortgage.
Same benefits as homes in parks, such as: ability get in the door with little to no money, no credit, little time, minimal management, etc.
You will find MANY MORE BUYERS for homes on land than in parks.
Buyers looking for homes w/ land will pay you higher Move-In fees.
Compared to homes in parks – homes on private land are completely different animals. The Platinum membership provides all the information, methods and resources you need to immediately capitalize on these amazing opportunities.
Your first deal on land will pay for this investment many, many times over.
Price for Platinum Package is only a one time payment of $1,997.
Choose The Right Membership Level For You Below.
5 DAY FREE LIMITED TRIAL
Yes

: Access to the first 11 lessons in Module #1.
No: Module #2, 3, 4
No: Module #5, 6, 7, 8, 9

Yes

: Limited Email support
GOLD MEMBERSHIP
Yes: Mental Attitude Module

Yes

: Module #1, 2, 3, 4

No

: Module #5, 6, 7, 8, 9
No: Bonus Module and Lessons
Yes: Legal forms and Agreements
Yes: Access to Networking Group
Yes: Lifetime access and upgrades
Yes: Email support
$1,497 (1 Time Payment)
PLATINUM MEMBERSHIP
Yes: Mental Attitude Module

Yes

: Module #1, 2, 3, 4

Yes

: Module #5, 6, 7, 8, 9

Yes

: + MHs On Private Land

Yes

: + MHs That Must Be Moved

Yes

: Bonus Module and Lessons

Yes

: Legal forms and Agreements
Yes: Access to Networking Group

Yes

: Lifetime access and upgrades

Yes

: Priority Email support
$1,997 (1 Time Payment)
More Customer Case Studies
See What Training You're Getting Access To Immediately After Starting..
Module 1 - Becoming a Local Expert For Buyers, Finding 50-100 Seller Leads Instantly, and Meeting Park Managers (In Parks)
Module 1 Overview
The Three M's
Mobile Home History
Singles, Doubles, and Triples
Four Levels of Learning
Interior Walk Through
Exterior 101
Common Community Restrictions
Lack of Traditional Financing for Qualified Buyers
Identification
Natural Disasters
Mobile Home Title(s) and MCOs
Statements of Ownership and Location
Start Building Your Buyers List (Become a Local Expert) & Alternative Methods
Pre-Screening Buyers Automatically
Lead Magnets: An Introduction
Setting Realistic Goals
Raising Investment Capital
Lead Magnet: (3 Minute Leads)
The Ultimate Business Card Template
Know Your Target Parks
Action Assignments Module 1
While Driving Only Stop to Meet Park Managers If...
Module 2 - Screening Callers, Making Appointments, and Rating Homes
How We May Choose to Make Money When We Sell
4 Irrefutable Traits of a Successful Investor
3 types/Stages of Sellers
How Others See You
Power Position
Game Plan
Rating Each Community
Rating Each Home
First OUTBOUND Call to a Seller - Dissected
Using Your Questionnaire
First Call Q&A
Emails to Non-Appointment Sellers
Lead Magnets (Set 1)
A Case of the Too Desperate Seller
How to Transfer Title in My County - Test Run
Misc Info and Landlord/Tenant Laws
Action Assignments Module 2
Module 3 - Making Winning Purchase Offers, printing Paperwork, and Closing Correctly
Module 3 Game Plan
Meeting the Park Manager - Warm
Meeting the Sellers
Checklists and Repair Cheat Sheet
How Much Can You Resell this Home for?
Create 3 Purchase Offers Per Home
Present Offers to Sellers
Live Examples: Making Your First 3 Offers to Each Seller
Partnership Purchase Offer in Parks (For Most FSBO with High Monthly Fees)
Make This Offer to Every Seller Asking Over $20,000 (Only if you went to an appointment with this seller)
Negotiation Examples
Help Remembering When to Follow-up with Past Sellers
Applying at the Park
Verifying (Personal Property) Taxes Have Been Paid
Purchase Forms: Mobile Homes in Parks
ALL STATES Closing & After Closing Procedure
Personal Property Trusts (+ Forms Needed to Sell)
California Title Transfer (Before and After Closing Specifics)
Texas Only - Pre-Closing Procedure
Texas Only - Purchase Forms, Closing, and Post Closing Procedure
Vermont Title Transfer: Before, During, and After Closing
New Hampshire: Before, During, and After Closing Procedure
West Virginia: Before, During, and After Closing Procedure
Case of the Unhappy Lien Holder
Action Assignments Module 3
Module 4 - Repairs, Marketing,  Reselling for Maximum Profit,  and Hands-Free Management
Module 4 Overview
What Repairs to Make
Repair Examples
Your Ideal Buyers
Clean and Market the Home for Sale
Marketing the Home - Blitz
Automated Selling Funnel in Parks
Background Check
Property Insurance Once Sold
Approved Approved! Set up Closing Time
4 Ways to Make Profit
Selling Cash-Flow #1. Core Selling Paperwork
Selling Cash-Flow #2. Selling Addendums
Selling Cash-Flow #3. Buyer;s Repair Agreement
Closing at the Mobile Home (Selling)
New Hampshire: Selling a Mobile Home in a Park [Cash or Payments]
Collecting Payments
Management 1 and 2
Transporting a Mobile Home
When Your Buyer Completes All Payments to You
Module 5 - Becoming a Local Expert For Buyers, Finding 50-100 Seller Leads Instantly (MHs On Private Land)
Module 5 Overview
Manufactured Homes on Land 101
Familiarize Yourself With Your Farm Area
Lead Magnets (Set 2)
"Mail Merge" Time Saver for Mailing Letters
Become an Expert in Your Area for Mobile Home Buyers (for Land)
Action Assignments Module 5
Module 6 - Understanding Your Purchasing Methods, Power Team, Trusts, and Paperwork
Module 6 Overview
Know Your Exit Strategy
First Phone Call To and From Sellers (2 videos)
How to Estimate "After Repaired Value" (Finding Comps)
Subject To (Intro)
Land Trust Agreements
8 Steps of a Successful Subject to Deal (Birds-Eye)
Important Mortgage details and "The Due on Sale Clause"
Verify Mortgage Info and Property Taxes
Action Assignments Module 6
Module 7 - Knowing Your Sellers, Creating Win-Win Purchase Offers, Negotiations
Module 7 Overview
First Meting with the Seller
Checklists and Repair Cheat Sheet
Creating Your All Cash Offers
Creating Your Payment Plan Offers
Word Problem
Present Crafted Offers to Sellers
Second Meeting with the Seller
Follow Up Campaign
Closing Procedure When Buying with Land
Wholesaling Mobile Homes on Private Land
Intro to Closing Documents
Lead Magnets (Set 3)
Action Assignments Module 7
Module 8 - Paperwork, Marketing, Purchasing
Module 8 Overview
Creating Your Closing Paperwork (Buying with Payments)
Creating Your Closing Paperwork (Buying with Cash)
Closing Procedure
Marketing the Home - Blitz
Finding Sellers- Additional Magnets that Get Results (Set 4)
Action Assignments Module 8
Module 9 - Repairs, Advanced Marketing, Reselling, and Hands-Free Management 
Module 9 Overview
Selling Strategy on Land
Selling Price and Terms
The Automated Selling Process on Land
What Repairs to Make
Repair Examples
Buyers Objections and Concessions
Your Ideal Buyers
Collecting Payments
Background Check
Selling the Property for All Cash
Creating Paperwork and Signing (Selling with Payments)
Taxes and Insurance on Land
Management on Land
Closing on the Property (After 24 Months of Payments)
BIG Bonuses
Lease with Option to Purchase when Selling in MH Park
Wholesaling Mobile Homes Inside Parks
MAO in Parks = Maximum Allowable Offer
Subject 4 Purchase Technique on Land
1031 Exchange Introduction and FAQ
Marketing Tools for Finding Sellers
Unlimited Email Coaching 
Access to Future Classes
Past VIP Group Coaching Calls and Lessons
Private Membership into the MHF's members only Facebook group
5 DAY FREE LIMITED TRIAL
Yes

: Access to the first 11 lessons in Module #1.
No: Module #1, 2, 3, 4
No: Module #5, 6, 7, 8, 9

Yes

: Limited Email support
GOLD MEMBERSHIP
Yes: Mental Attitude Module

Yes

: Module #1, 2, 3, 4

No

: Module #5, 6, 7, 8, 9
No: Bonus Module and Lessons
Yes: Legal forms and Agreements
Yes: Access to Networking Group
Yes: Lifetime access and upgrades
Yes: Email support
$1,497 (1 Time Payment)
PLATINUM MEMBERSHIP
Yes: Mental Attitude Module

Yes

: Module #1, 2, 3, 4

Yes

: Module #5, 6, 7, 8, 9
Yes: +MHs on Private land
Yes: + MHs that Must Be Moved

Yes

: Bonus Module and Lessons

Yes

: Legal forms and Agreements
Yes: Access to Networking Group

Yes

: Lifetime access and upgrades

Yes

: Priority Email support
$1,997 (1 Time Payment)
Contact Us
support@mobilehomeinvesting.net
Mobile Home Madness, LLC.
Earnings Disclaimer
Every effort has been made to accurately represent our product and it's potential. Any income statements and examples on this website are not to be interpreted as a promise or guarantee of earnings. Earning potential is entirely dependent on the person using our product and does not represent or guarantee that anyone will achieve the same or similar results.