Nothing Found
Sorry, but nothing matched your search criteria. Please try again with some different keywords.
Search Website: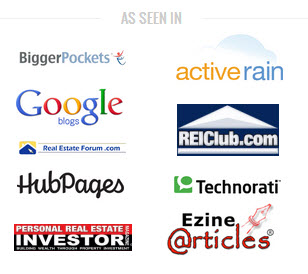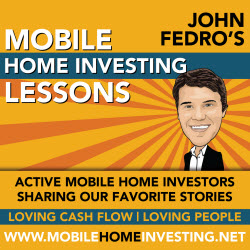 Testimonials
I am completely blown away by what I have seen in the past few days since joining the Mobile Home Formula. Your training alone is so clear and to the point I have little questions at this time. You also have been available for me whenever I need you for motivation to put your Action Steps into action. My husband and I are excited to be confidently talking to seller and mobile park managers already.
Love the program! Liked the step by step instructional videos and PDF charts. I was fortunate enough to have John as a personal coach and THAT helped tremendously.
Bought a 3/2 for $3k all in on Dec 14 put in another $2k in repairs and sold on Dec 27 for $4k up front and $300/mth for 48 months (Lot rent $650/mth). Needed water heater, pipes, fittings, faucets & toilets.
Also I just wanted to say thanks for sharing this MH formula with us. …I believe in this system. It makes perfect sense.
As a college student trying to get into real estate investing, I personally recommended John Fedro's mobile home books to educate yourself and take action every day. This is the perfect strategy for someone who has little to no money who is looking to get positive cash flow…
John has a great section about negotiation in the course material that will give you every advantage. Like John says They need to sell you don't need to buy.
I closed my first deal with-in a couple weeks of your course. It was a nice manufactured home that was in great condition. I paid $4,000… the place sold for $12,400 cash. Pretty easy $7,700.00 in profit!
Very excited to move forward.  Very impressed with the detail of your materials and your hands-on and always present coaching.
This is so interesting!  Especially how you describe this as a "helping people business"! I've always wanted to do that.
Easy to navigate through, very informative, and pretty easy to grasp material. John makes himself available to answer questions which is a huge help.
We would like anyone considering buying John's course to know our experience. John is very helpful, and is available for both email and phone calls. Within one week we were on our way to our first deal. With many more in the pipeline everyday.
I am closing on my 2/1 for $750 in a days time. Thanks again.
You are a great mentor John and I truly appreciate your honest answers to all my questions.
Your modules are fantastic and well worth the investment by any stretch of the imagination.
I am now through the 1st module and I am impressed with the step by step process on how to start the mobile home investing. What to do, what not to do and what to expect. For example, each time I look at a mobile home I can tell when it was built and what inside structure will be like.
I have received the Course and am impressed – Kudos to you. The course is amazingly comprehensive and concise. You have thought of everything and make it easy for a beginning investor. Wherever possible you have provided useful "done for you" material. You properly emphasize the importance of personal attitude and building solid supportive relationships with your clients.
I am blown away by the material John has provided in this program. It is very comprehensive and easy to understand.
Thank you  for all the value that you bring to people interested in the industry.
I'm so grateful to be able to work with you and you've been a great coach. You give me motivation and show me this business can be done from anywhere if you have the motivation and heart. Thank you again.
Your material is really solid, but the thing that I was struck by in your training was your sincerity in helping others.  At its core, real estate really is a "f*ck you,  pay me" business relationship (a la the classic 

Good Fellas

 movie quote), but what many players in this business forget/never realize is that to get to that hardcore stance you need to 

deliver value first

.  You get that.  And you are training your students to hold the same level of integrity.  That's rare in this market ca…