Sorry, but nothing matched your search criteria. Please try again with some different keywords.
Search Website: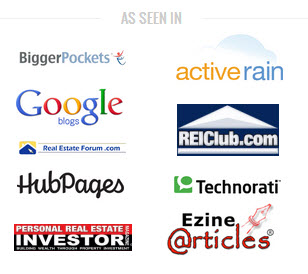 Testimonials
So she said she would take $2,000 for it. I agreed and bought it just a few hours ago…. I then went to meet with the park manager and give him his $250 referral fee and he handed me the key to a new lead. I checked it out and it's a beautiful 2/1.5 that needs nothing!! All appliance and some furniture stay and they were only asking $2,500. I called the seller on the way back to my office and we agreed to a purchase price of $2,250 cash and is coming by my office in a few minutes to finish the de…
You've relit that fire for me.  With you, my friend, I've found my way in [to real estate investing].
The farther I get into this business the easier it's getting.
I have done 11 deals since buying your program.
What I like about it is this information is put out by someone actually making a living doing what is being taught in all of the modules, as opposed to a marketer who is just put something together to make money. John is also very active in the Mobile Home Formula's private Facebook group, showing examples of investments he has put together and giving out helpful advice.
I closed my first deal with-in a couple weeks of your course. It was a nice manufactured home that was in great condition. I paid $4,000… the place sold for $12,400 cash. Pretty easy $7,700.00 in profit!
I am completely blown away by what I have seen in the past few days since joining the Mobile Home Formula. Your training alone is so clear and to the point I have little questions at this time. You also have been available for me whenever I need you for motivation to put your Action Steps into action. My husband and I are excited to be confidently talking to seller and mobile park managers already.
This programs works as long as he does his part and that you're always there to walk us trough the deals.
I see manufactured homes as my way of getting back to where I was financially and way better. This is an awesome business. Most investors either ignore this business or look down their noses at it, as I did years ago.
Wow! So far the best service I've ever seen on the web.
This is so interesting!  Especially how you describe this as a "helping people business"! I've always wanted to do that.
I want to tell you, John, that I am immensely impressed and pleased with the quality and professionalism of your videos and training.  Good job!
I also wanted to thank you for being so easy to learn from. I can listen to hours of your videos without getting sick of your training.
Your program is so detailed, and that is the reason I don't have any specific questions at this time.
First deal closed!!!! HELL YES SON!! I love this!!! I credit all of what I know about mobiles to John fedro and the MH Deal Make Formula. 1 mobile home down and 99 to go!
As a college student trying to get into real estate investing, I personally recommended John Fedro's mobile home books to educate yourself and take action every day. This is the perfect strategy for someone who has little to no money who is looking to get positive cash flow…
I would like to commend you and your team for the program and the way your site is set up. It is encouraging but points out the realistic effort that it will take. A very good mix.
The farther I get into this business the easier it's getting.
Here is a 1984 3/2 DW I just bought for $3,000!!! I have a woman already interested in buying as is!! CASH FLOW!
Thank you John for all your help. I feel like you are always next to me when I'm doing this deal this coaching programs is the best that I ever done.