Sorry, but nothing matched your search criteria. Please try again with some different keywords.
Search Website: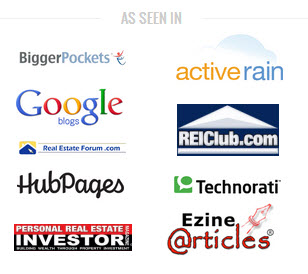 Testimonials
I want to personally thank you though, at first I thought this could be a scam, but now I know it's not and you have provided me a way out. I never thought I would be in the military as long as I have  but the one thing that kept me in is what would I do when I got out? … Your program will help me never mis anything again. I can't thank you enough.
I gotta thank you again for creating this program.
Just bought our second home 3k cash 3/1.5. Thanks again for your help.
Thank you John for being so helpful. Its nice to know that I can buy a program and they don't disappear.
I really appreciate that you give your time and energy to this and the passion you have for helping people get into this industry.
I want to tell you, John, that I am immensely impressed and pleased with the quality and professionalism of your videos and training.  Good job!
Just starting to digest your course John and I must say it's awesome and very concise action based material!
I also wanted to thank you for being so easy to learn from. I can listen to hours of your videos without getting sick of your training.
I gotta thank you again for creating this program.
Bought a 2/1 for $1600 all in on Dec 9 sold on Dec 23 for $1500 up front and $250/mth for 48 months (Lot rent $400/mth) Didn't need anything was ready to live in.
As a college student trying to get into real estate investing, I personally recommended John Fedro's mobile home books to educate yourself and take action every day. This is the perfect strategy for someone who has little to no money who is looking to get positive cash flow…
I gotta thank you again for creating this program.
We would like anyone considering buying John's course to know our experience. John is very helpful, and is available for both email and phone calls. Within one week we were on our way to our first deal. With many more in the pipeline everyday.
I see manufactured homes as my way of getting back to where I was financially and way better. This is an awesome business. Most investors either ignore this business or look down their noses at it, as I did years ago.
Very excited to move forward.  Very impressed with the detail of your materials and your hands-on and always present coaching.
This programs works as long as he does his part and that you're always there to walk us trough the deals.
Secondly, each and every module contains such meaty information. I don't think you have left one stone unturned… Thank you for helping me to make for a much brighter future!
Thank you  for all the value that you bring to people interested in the industry.
John has a great section about negotiation in the course material that will give you every advantage. Like John says They need to sell you don't need to buy.
We bought it for $5,000 including the repairs… Reselling it $1,000 down plus first month of $850. On a 7 year term the net per month is S450 so that's $37,800 over the 7 years.
My Cashflow from the Mobile Homes have made this Vacation Possible.