Sorry, but nothing matched your search criteria. Please try again with some different keywords.
Search Website: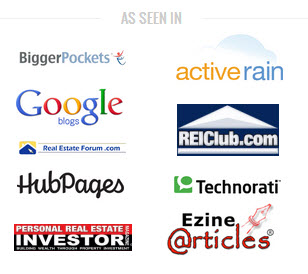 Testimonials
So she said she would take $2,000 for it. I agreed and bought it just a few hours ago…. I then went to meet with the park manager and give him his $250 referral fee and he handed me the key to a new lead. I checked it out and it's a beautiful 2/1.5 that needs nothing!! All appliance and some furniture stay and they were only asking $2,500. I called the seller on the way back to my office and we agreed to a purchase price of $2,250 cash and is coming by my office in a few minutes to finish the de…
Very excited to move forward.  Very impressed with the detail of your materials and your hands-on and always present coaching.
We are working on another mobile we just bought last week.  I will try to get it on face book as soon as possible… We just sold another today and spent most of today at the escrow office…YIPPEE!!
I purchased John Fedro's program in 2011. And I would recommend John and his program, to anybody that is looking into getting into investing. John does what he say's he will do.  anytime I have called him with questions or needed help or advice. He has always been there and willing to do what ever he can to help.  Thank you
Thank you for the useful information and the thoughtful approach to mobile home investing… Reading about someone who has crafted a business around helping people, and making a good profit at the same time, really resonates with me.
I just had to write to let you know how please I am with your course… these modules are not only broken down into bite size, easy to understand pieces, but are so carefully organized, that it makes getting through them a breeze.
John has a great section about negotiation in the course material that will give you every advantage. Like John says They need to sell you don't need to buy.
A couple deals I've done. Started with $4,000. Bought $4000 sold $10,000. Bought $1250 sold for $5000. Bought $1100 sold for $4000. Bought $3000 sold $10,000.
I am closing on my 2/1 for $750 in a days time. Thanks again.
Bought a 2/1 for $1600 all in on Dec 9 sold on Dec 23 for $1500 up front and $250/mth for 48 months (Lot rent $400/mth) Didn't need anything was ready to live in.
Just starting to digest your course John and I must say it's awesome and very concise action based material!
I got home and guess what. I posted a wanted ad, the exact one in the formula and I got a call!!!!!. He said in the voice mail that he had 2 mobiles he was trying to sell!
It is my pleasure to let anyone know that this programs works as long as people do their part and John's always there to walk you trough the deals.
This program is sincerely awesome.
Also I just wanted to say thanks for sharing this MH formula with us. …I believe in this system. It makes perfect sense.
I have received the Course and am impressed – Kudos to you. The course is amazingly comprehensive and concise. You have thought of everything and make it easy for a beginning investor. Wherever possible you have provided useful "done for you" material. You properly emphasize the importance of personal attitude and building solid supportive relationships with your clients.
The farther I get into this business the easier it's getting.
I highly recommend John's program to anyone willing to learn and make a financial change in their life.
Your material is really solid, but the thing that I was struck by in your training was your sincerity in helping others.  At its core, real estate really is a "f*ck you,  pay me" business relationship (a la the classic 

Good Fellas

 movie quote), but what many players in this business forget/never realize is that to get to that hardcore stance you need to 

deliver value first

.  You get that.  And you are training your students to hold the same level of integrity.  That's rare in this market ca…
What I like about it is this information is put out by someone actually making a living doing what is being taught in all of the modules, as opposed to a marketer who is just put something together to make money. John is also very active in the Mobile Home Formula's private Facebook group, showing examples of investments he has put together and giving out helpful advice.
Now I have found my niche and started a new way of working and living more secure and happy. Thank you John. You do not imagine what you do for other people.