Welcome back,
In today's Mobile Home Investing Lesson Podcast episode #19, I'm very proud to welcome Roscoe to the co-hosting microphone. Roscoe will be discussing his first mobile home deal, his selling funnel, and his experiences missing other profitable opportunities along the way. Roscoe is a self-starter and go-getter right out of college. Discover what Roscoe is doing to juggle single-family flips and mobile home cash-flow side by side.
Learn more about Roscoe's mobile home investing business in the short Podcast and video below. A special "Thank You" to Roscoe for opening up his business and sharing vulnerable mistakes that will help us all be more profitable investors.
Related article: Automated selling funnel for mobile homes inside parks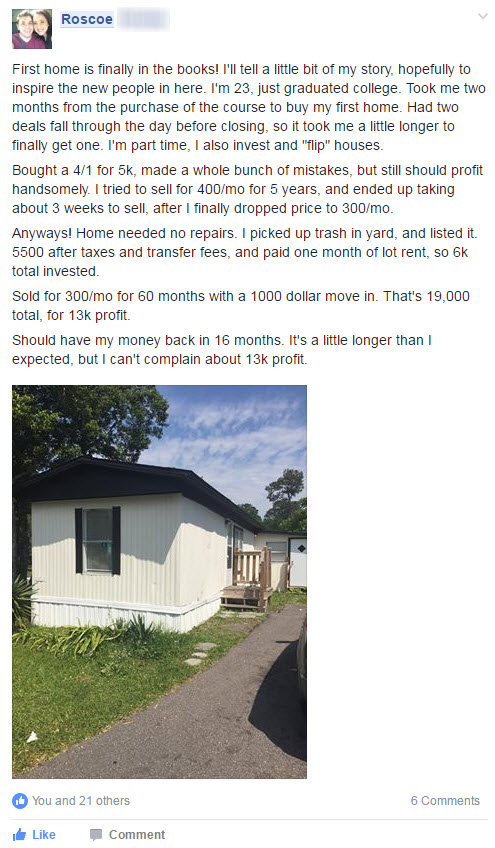 In this show we cover: (Times are provided to fast-forward video if needed.)
0:51 What is your real estate experience currently?
1:56 Any words of wisdom for traditional SFR investors?
2:30 Working with local handyman and contractors.
3:15 Let's talk about your 1st deal.
4:10 What price and terms did you sell this home for?
4:19 What repairs did you make?
5:05 How long did this home take to sell?
5:23 Why did this woman turn you on to this deal versus keeping it for herself?
6:40 Will this be a good lead source for you moving forward?
7:10 How did you find this park so far away?
9:25 How many potential tenant-buyers had to walk through the home before selling?
11:28 Let's discuss your selling funnel.
13:24 Using video in your selling funnel.
15:23 Let's talk about some missed opportunities.
19:35 Are park managers helpful or hurtful?
20:38 What are your goals for the rest of the year?
22:02 Why do you love mobile homes on land?
23:41 What advice would you give to others investing in mobile homes?
Watch the Podcast Here
Finding lower priced mobile homes in your area
Within every state the price, supply, and demand of used mobile homes may vary wildly from city to city. I mention this because on this podcast we mention that Roscoe is finding good quality mobile homes for $20,000 and below. These mobile home properties are not typically listed online or for-sale yet to the general public. This is possible in most areas of the country if you are: 
Well known by local mobile home owners, sellers, park managers, etc.
Marketing and advertising regularly so sellers and mobile home owners know who you are and how you can help.
Additionally you should be making offers regularly on all homes under $25,000 if aiming to resell via payments. Disclaimer: This $25,000 figure will vary depending on your exit strategy.
Related video: How to find lower priced mobile homes in high priced areas?
Listen to the Podcast Here
Podcast: Play in new window | Download
Subscribe: Apple Podcasts | Android | RSS