Welcome back,
Who is on your investing TEAM? While actively mobile home investing which individuals do you work with on a daily/weekly/monthly basis? Does your TEAM change depending on your specific mobile home sub-niche (Example: mobiles inside parks VS. mobiles on private land)? In today's quick 32-minute podcast we discuss all this and much more.
In episode 21 of the Mobile Home Investing Lessons Podcast I'm super honored and proud to welcome Tommy to the Podcasting microphone. Tommy has only been mobile home investing for 6 months and has already amassed a total of 13 cash-flowing properties at the times of this recording. This monthly cash-flow has helped allow Tommy to start investing in mobile homes full-time. While this is a sizable income, Tommy admits he loves being able to have helped 20+ families sell unwanted properties or buy a mobile home of their very own.
Notable quotes from Tommy: "If you don't work, it's not gonna work." (Tommy says this just before ending the podcast and rushing out for another closing.)
Related posts: MHI Lessons Podcast 009: Taking Your Mobile Home Business Serious With Kenneth
Author's note: I consider myself outstandingly fortunate to work alongside so many great real estate investors and mobile home investors. What makes these investors "great" is not always their vast wealth of real estate knowledge or experience, but instead it is the rare ability to take action, ask questions, and never quit until success has been reached. Special thanks to Tommy for helping investors he will never meet.
Listen to the Show on iTunes
Click here to listen on iTunes.

In this show we cover:
1:20 How many deals are you closing per month?
3:00 What is your average repair cost per mobile home?
4:23 Can you discuss down payments and monthly payments?
6:30 Do you invest full-time or part-time?
6:55 Can you discuss your financial partner?
7:45 The advantages to holding a few vacant homes.
8:50 How many mobile home parks are you actually within?
9:20 Has been dealing with the mobile home park managers a positive or negative experience?
10:15 Can you talk about a negative park manager experience?
11:35 Are you investing in mobile homes on private land yet?
12:16 Are you investing in complete mobile home parks yet?
13:10 Who else has been valueable on your team?
15:50 Where have you found your handymen?
17:40 Do you pay handymen anything before they start a job?
20:11 Any other valuable tips when working with handymen or contractors?
23:14 Ways to find a mobile home real estate attorney.
24:37 Your TEAM may change depending on your sub-niche.
26:40 Can you talk about your most recent deal?
28:33 What is something you were not expecting while mobile home investing.
30:25 Advice for go-getters wanting multiple deals per month?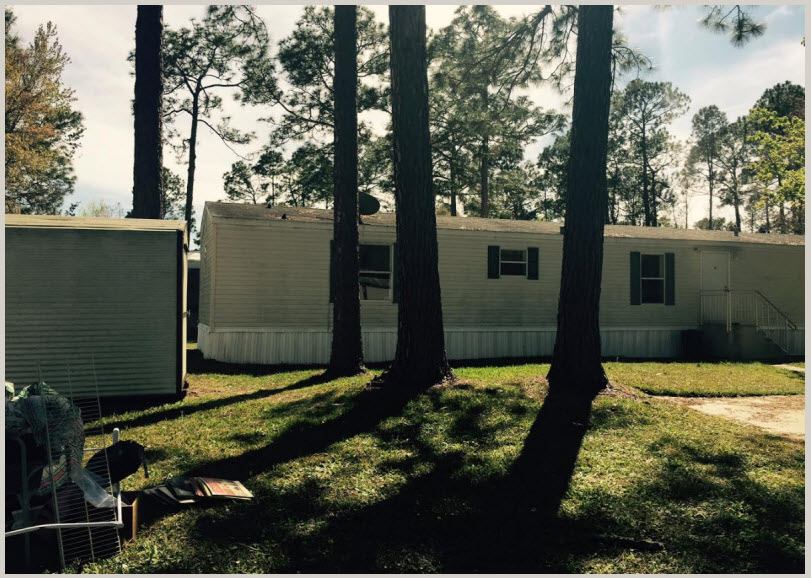 The picture above is the mobile home Tommy talks about starting around minute 27:00. There are some damages that will cost approximately $930 in labor and $800 in material. Tommy paid just $3,000 for this beautiful 2003 manufactured home 3/2 in a family park. This home will sell with payments over $30,000+ once repairs are complete. Tommy literally had to run out of the door to close with these eager sellers. Keep up the great daily effort to help others locally.
Listen to the Podcast Here
Podcast: Play in new window | Download
Subscribe: Apple Podcasts | Android | RSS