Welcome back,
In today's mobile home investing Q&A video series I feel very privileged to introduce active mobile home investors, Michael and Diana to the co-hosting microphones. In today's video we spend a full hour diving into Michael and Diana's mobile home investing business to figure out what is working, as well as what is not. In today's video we break down some deals and daily actions producing results in Michael and Diana's full-time manufactured home investing business. This husband-and-wife investing team is dominating a few of their local parks and making a positive name for themselves and their investing territory… and there's no slowing them down.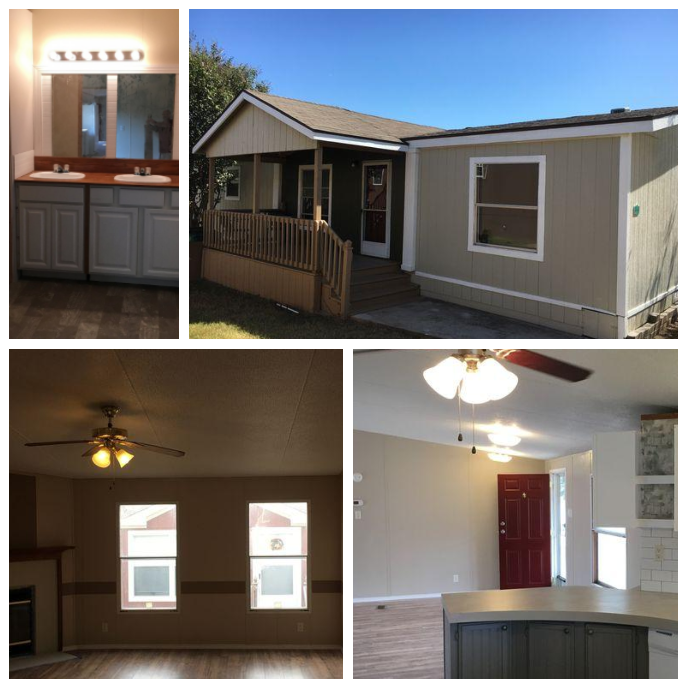 Mobile Homes Purchase/Sold With Private Land
Around the country there are far more mobile homes attached to private land (small lots to many acres) versus located inside pre-existing mobile home parks. This means that when a mobile home is not inside a mobile home park, it is usually found on a piece of land owned by the mobile home owner. This means mobile homes sold with private land typically have…
No park managers.
No park rules.
No park preapproval or screening process.
No monthly lot rent.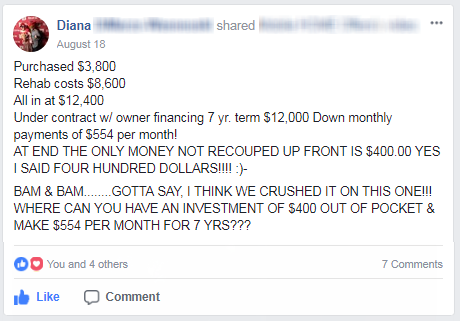 Author's Note: I was very fortunate early in my real estate investing career to purchase both a mobile home attached to private land and a mobile home located inside a pre-existing park within one month of each other. After purchasing and reselling both types of mobile homes I understood that both types of sellers in parks and attached to private land…
May find themselves in financial hardships.
May have confusions, fears, and questions.
May be realistic or unrealistic about their situations.
Deserve to be treated fairly.
May consider taking payments monthly (seller financing) for the value of their mobile home. This allows you to bring little to no money to close.
May find it difficult to locate bank-financed approved buyers, or park approved buyers.
May find a lack of mobile home knowledge or authority in the marketplace.
May find a lack of serious mobile home buyers in the marketplace.
Can be friendly and easy to talk to.
May need your help.
Disclaimer: As an inexperienced mobile home investor it may be easy to overpay for a mobile home, especially a mobile home attached to private land. It may always be valuable to gain complete clarity in the market with regards to all sellers who are selling, plus really getting your name around to let people know who you are and how you may help. Aim to talk and introduce yourself to almost every local mobile home seller that fits your criteria. From this point you can move forward with the path of least resistance. More on this below.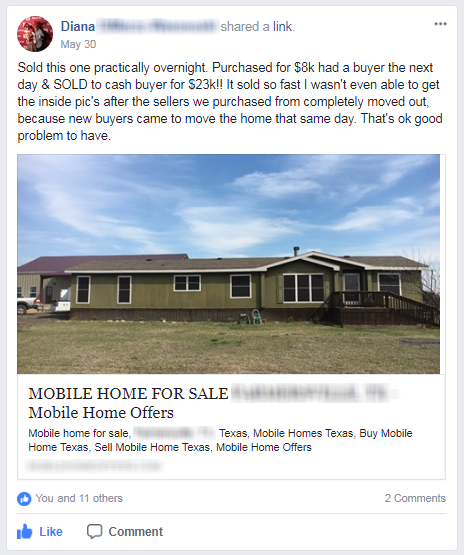 Where are mobile homes found? Mini-lesson for newer MH investors…
(Common, usually in more rural settings) Mobile homes affixed to private land: The owner of this mobile home also owns the piece of land the home is sitting upon. The mobile home and the land are typically taxed together. This mobile home may or may not require a Title. This mobile home and land package is typically considered "real estate". The home and land can be legally separated in the event you wish to replace the mobile home with the newer model, or sell the mobile home and rent the land.
(Common, however not in DC or Hawaii) Mobile homes inside pre-existing mobile home parks: Many people thinking about mobile homes will typically have this scenario in their minds. The owner of the mobile home will typically be paying a monthly land/lot rental fee in order to keep the mobile home parked within this mobile home community. Buyers must be approved before living in most parks.
(Common in many cities) Mobile homes on a Dealer's lot: Brand-new mobile homes can be found at new dealer lots and showrooms. There are also "repossession dealers" which specialize in dealing in repossessed mobile homes. In both of these situations there will typically be a vacant lot/space used as storage to park these available mobile homes until they are purchased and moved to a new location.
(Less common) Co-op style mobile home communities: In these communities the owner of the mobile home typically owns the piece of land there mobile home sits upon. However sometimes the owner of the mobile home will not own the specific land under their mobile home, however they will own a single "share" within the mobile home community. These co-op style communities may be a product of all the mobile home owners/residents of a specific park joining together to purchase said park themselves. These parks may or may not be age restricted. Related Article: MHI Podcast Lesson 10: Case Study In Senior Parks With Paul B
(Less common) Rental only mobile home communities: In these communities the owner of the mobile home park owns 100% of the mobile homes. The renters inside the mobile homes pay a flat fee to rent the mobile homes/land within the community. Some communities may be divided into certain sections of "rental only" homes, and another section of owner occupied homes.
Related article: Singlewides, Doublewides, Mobiles Homes and Manufactured Homes
The video below is just under 1-hour in length. We discuss a number of topics plus Michael and Diana really open about some personal experiences and misjudgments they experienced along their journey. Set aside some time to listen to the actionable suggestions and tips in the full video below. A special Thank You to Michael and Diana for opening up their hearts and investing business for us all to learn together.
In this show we cover: (Times are provided to fast-forward video if needed.)
2:20 How did you get started with mobile home investing?
4:40 How is working together full-time as husband and wife investors?
5:26 Are there any types of mobile homes you will not purchase?
6:15 Working with mobile home sellers.
7:00 Mobile home sellers on land VS mobile home sellers inside pre-existing parks.
10:02 Dealing with single family home inspectors while investing in mobile homes.
13:35 Understanding how sellers discount their homes according to time.
15:59 Why would a mobile home seller accept a lower priced offer?
17:17 Do you ever use inspectors when purchasing mobile homes?
18:27 How many communities are you involved with?
18:45 Working with park managers and owners.
19:50 Have you ever burned-any-bridges while removing a mobile home from a park?
20:20 Case study #1
23:43 Do you ever use park managers as references for each other?
24:30 Case study #2
27:43 Building genuine rapport to help others.
28:30 How long do your mobile home deals typically take to close?
29:45 What's something that surprised you while mobile home investing?
31:25 Selling to wealthier types of buyers.
32:02 Is the stigma of mobile homes changing around the country?
33:29 Investing in a mobile home within a senior mobile home park.
39:45 Strategies to help sell a semi-less desirable mobile home.
44:14 How do you feel about renting out mobile homes VS selling them via payments?
45:20 What are the benefits to operating a local real estate investor's club?
46:44 Getting your kids involved with mobile home investing.
47:15 Lending money to other investors as another source of passive income.
49:50 What has it been like working with your mobile home payment buyers?
51:35 Case study #3
52:19 Why would you move/transport a mobile home if it's not needed?
54:21 Case study #4
56:20 Are park managers a decent source of leads for you?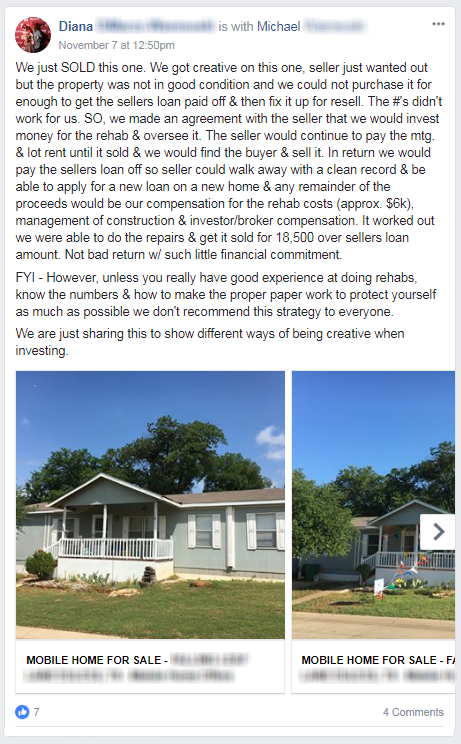 Inside an age-restricted park (senior park)
If a mobile home park does not allow buyers or residents under the age of 40, 45, 50, 55, 60, 65, or any other age it is obviously eliminating a certain segment of your potential buyer pool. In some areas of the country this matters, and in other areas it does not. In certain areas around the country there is a fairly steady demand from senior buyers to be in certain/specific desirable parks/communities/locations. Additionally, in certain areas/states around Fall/Spring will see large influxes of seniors moving from northern states to southern states, and vice a versa to avoid unpleasant temperatures.
Author's Note: In my older videos I have expressed a public dislike for mobile homes inside senior communities. This feeling has absolutely changed. I've since come to understand that some mobile homes inside senior parks can absolutely be desirable by certain buyers for the right prices/terms. However if you are just starting your mobile home investing career I would encourage you to invest within all-ages parks for your first 3-5 deals, then start weighing your options with regards to senior park homes more closely. With that said there are various safeguards you will want to try to implement to reduce headaches, holding costs, and time while reselling. These safeguards include…
Truly understanding your local market and your potential buyers.
Purchasing the correct mobile homes in desirable communities at the right time.
Negotiating free/discounted lot rent if purchasing a mobile home directly from a park.
Disclaimer: If you are under the age required to be approved to live in the community, this may or may not be a deal breaker. Based on experience, roughly 50% of senior mobile home communities around the country will work with an investor they know is under age when properly approached and befriended. This means that roughly 50% of senior mobile home parks will be willing to have you purchase and resell a mobile home within their community as long as they understand you will not be living in the home, but will have a park-approved buyer purchasing the home in the very near future. With that said there is still the other 50% of the senior mobile home communities. These communities will perfectly understand your ambition and goals however they will not allow you to work within the park simply due to your age. These parks may not even work with you with an age-approved cosigner.
Related article: Senior Mobile Home Park Case Study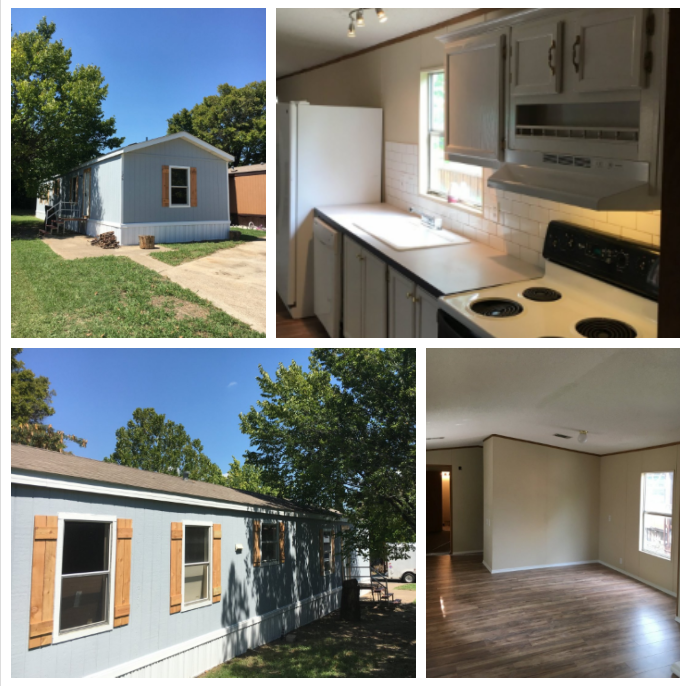 The Path of Least Resistance
With regards to following "the path of least resistance" when it comes to mobile home investing, it is vitally important to…
Have almost-complete clarity of your entire marketplace.
Know what mobile home sellers are currently selling (the easy-to-find sellers and very difficult to find sellers) and what reasons they have for selling their homes.
Have a thorough understanding what buyers are paying for used mobile homes (total, down payment, and monthly) before making any offers to purchase any mobile homes.
Additionally, your "the path of least resistance" may change from week to week. Overtime new sellers come into the marketplace, new sellers need to sell immediately, you expand your investing territory, you add additional advertising to attract more sellers, and older sellers begin to reduce their asking prices. Two different mobile home investors may have two very different "paths of least resistance". This is because investor A may have little to no money while getting started in mobile home investing, while investor B has money but has very little time to invest/devote. Because different investors have different locations, time availability, goals, fears, ambition levels, and capital advantages/disadvantages the path of least resistance for you may be…
A mobile home that needs little to no work before being resold.
A mobile home that may be resold quickly for all-cash, instead of monthly payments.
A mobile home that has no holding-costs before it is resold.
A mobile home that can be purchased with seller-held financing, allowing you to make payments to the seller for the price of the mobile home.
Investing within a certain park/location VS. other parks/locations for a variety of reasons.
All of the above and more.
Not investing in mobile homes at all.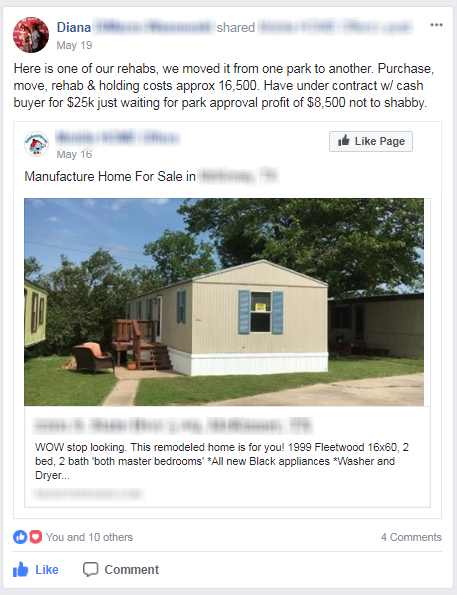 In conclusion, mobile home investing takes hard work and relatively daily effort to make a consistent name for yourself and help multiple buyers and sellers monthly. You will never learn everything you need to know about real estate investing from reading books or watching videos. While there are many ways to make money in real estate, there are countless ways to lose profits as well. Have fun and take daily action to reach your financial goals. If you have questions, asked them. There are plenty of active investors around to give you help and guidance if you simply ask for it.
Have comments or questions? We'd love to hear them below?
Love what you do daily,
John Fedro
support@mobilehomeinvesting.net
Related Videos: