Welcome back,
In today's video I am joined by hard-working and active mobile home investors, Michael and Chris. This investor team started investing in mobile homes nearly one year ago. In this short 12-month time they have gone on to surpass their 2015 financial goals by $100,000+. In the past year Michael and Chris have invested in 25+ mobile homes for passive cash-flow, helping over 50 families, generating huge immediate profits and cash-flow to come. Michael and Chris do all of this… plus they allow others to purchase their cash-flowing notes for a safe 11%-15%+ return on their money.
Luckily, I was able to sit down with these two Mobile Home Formula members to discuss what is working and not working in their businesses. Michael, Chris, and I open up their business model and ask the uncomfortable questions to get to the real answers. Learn practical advice you can start using today. Watch below for tips on purchasing homes, selling notes, buying notes, staying compliant, marketing, fraud, demographics, profits, headaches, tears, and more.
Disclaimer: Whenever negotiating and originating real estate notes please follow all current Acts and Truth In Lending laws.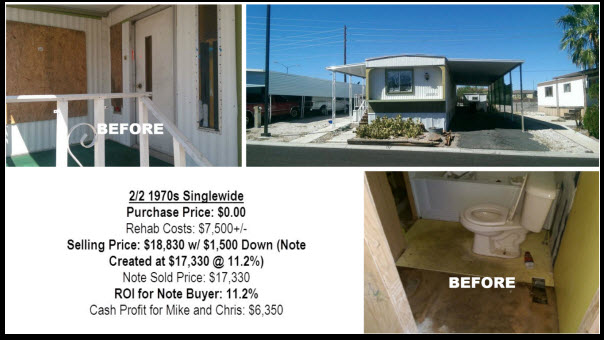 Please sit back and enjoy this 1-hour in-depth interview. (Keep this screen open and video playing to listen while working.)  
Questions/Topics Discussed in the Video: (Times are provided to fast-forward video if needed.)
1:15 Let's talk numbers about your business?
2:00 What do these free homes look like?
3:00 Are you talking to other parks? Why not?
3:50 This business is simple, but certainly not easy.
4:35 Investors pulling homes from parks?
6:10 What's your average "sold home" look like?
7:50 What has surprised you most in this business?
9:00 Who is your average mobile home tenant-buyer?
10:10 Best deal yet? (2000%+ ROI)
12:00 Why will parks give you decent homes for free?
14:07 Describe your worst deal and what happened? (76% ROI)
15:30 What mistakes did you make?
17:55 What would you tell your past self?
21:15 How much money and time should someone have to start investing?
22:54 Who are your note buyers?
25:15 What do your note buyer think when they hear "mobile home"?
28:25 What are 2 traits a successful investor must have?
29:35 What are your backgrounds?
32:20 Talk about your 1st mobile home deal?
35:41 What is the Paradise Trails story?
43:08 What if the tenant-buyers default and stop paying?
49:40 What are your goals for 2016?
Every area of the country is different. If you have specific questions about your current area please do not hesitate to get in touch with us directly.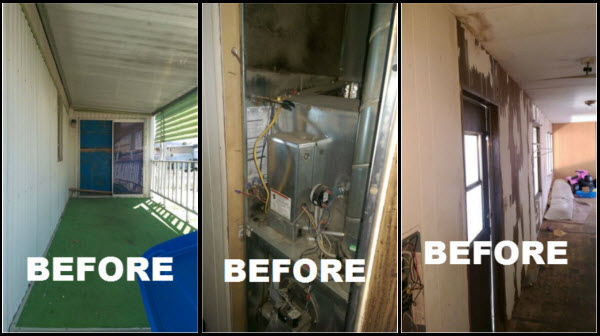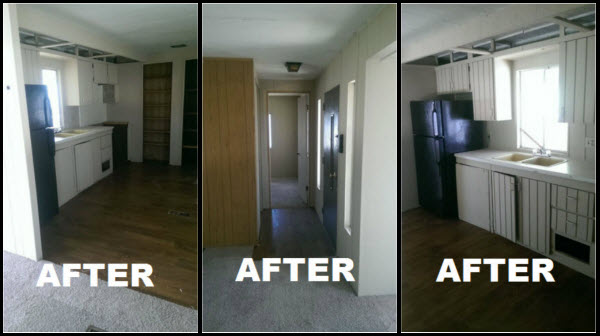 Free Mobile Homes: Free mobile homes are not a question of if, they are only a matter of time. If you are effectively representing yourself as a helpful and dedicated mobile home investor then you may likely make friends with local park managers that will wish to help you in addition to helping their own community. By park manager selling to you and you keeping the mobile home in the park, cleaning the home, and selling to a park approved buyer the transaction is win-win-win. (Watch video for more details.)
In conclusion, it is first important to understand your local market. More specifically it is important to understand the local supply and demand of homes, sellers, and all-cash/bank approved/payment buyers locally. Once you understand your local territory it may be wise to capitalize and help* every local seller possible. (*Help each seller by providing them options, a professional opinion, and choices out of their situation.) From this point you can duplicate your efforts to dominate your market and become a well-known authority for mobile home owners, sellers, and buyers in your area. Your journey towards success is a fun, social, and active road. Remember that you only create profit for yourself when you help others first. Keep the wants and needs of others in your mind and aim to help as many buyers and sellers locally as possible.
Do you have questions? Please tell us below.
Love what you do daily,
John Fedro
support@mobilehomeinvesting.net
Related Videos:

.