Welcome back,
Mobile home investors are attracted to this niche for several reasons; the ability to help others, creating a value in society, and to generate a substantial income when safely selling attractive mobile homes at attractive prices to hard-working buyers. However, another reason folks are attracted to this industry is the ability to take a neglected mobile home and restore it to a beautiful and pride-worthy home. This is now a mobile home that will be loved and cherished by grateful new owners.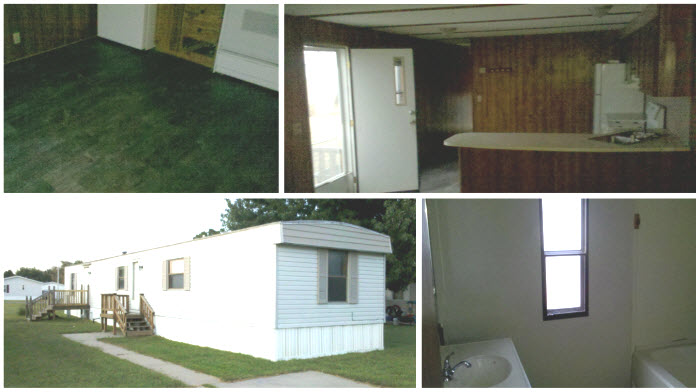 In the video below we walk through a neglected manufactured home. The case-study below is a great example of a not-too-uncommon mobile home seller scenario – a mobile home in need of repairs. This is also known as deferred maintenance.
Definition: Deferred maintenance is the practice of an owner postponing maintenance activities such as repairs on both real property and personal property in order to cut costs and save money.
Mobile Home Makeover With $15,000+ Profit
Questions/Topics Discussed in the Video: (Times are provided to fast-forward video if needed.)
0:20 The 2 reasons for this video.
1:32 Driving 2 hours to the mobile home.
2:08 Due diligence with the park manager before removing the home.
3:08 What a $1,000 mobile home looks like?
3:20 Landscaping while removing a mobile home from a park.
4:07 Inside walk-through of the mobile home.
5: 25 Driving to the county courthouse to confirm taxes, liens, and ownership.
6:15 Not fully trusting sellers.
6:30 Finding more back taxes than expected.
7:31 Keeping away a few hundred dollars until the home is clean and empty.
7:55 Taking title and celebrating.
8:25 Transferring ownership from the seller to your control.
9:02 Transferring title at the local courthouse (this location will vary per state)
9:31 Why you should transfer the title next day?
10:32 Walk through before and after pictures.
10:54 Description of repairs.
12:04 Always wear protection.
12:46 Outside mobile home repairs.
13:20 Bathroom – before and after.
14:13 Repair costs outline
14:30 Purchase price and selling terms
15:23 Video recap
15:45 Sabotaging myself
16:40 The wrong mindset to have as an investor.
17:40 Everything we bring to the closing table as investors.
Disclaimer: A mobile home does not need to be below $1,000 to be a good deal. In fact "free mobile homes" are sometimes not good deals at all. The purchase price has little to do with being a "good deal" as long as the home or home/land can be resold for a substantial profit. There are many things that go into your due diligence before purchasing a mobile home. Perhaps the most valuable due diligence data is the realistic amount you will be able to rent or resell the manufactured home for monthly, or all cash, or bank financing.
Did you spot how I sabotaged myself in the video?
At 15 minutes and 45 seconds into the video above we discuss how being aware of the words you are saying can lead to errors in your thinking. Even after 14 years investing it is difficult for me not to fall into this trap. Author's note: This trap is easy to spot in others, however it is hard to see when it is happening to yourself. Always have clarity and invest in real estate with logic.
As manufactured home investors it is our job to help provide options for sellers. There are few places in town for sellers to understand the true values of their homes. An honest investor that understands the local market will do his/her best to educate sellers to all their options; the seller's options with you and additional helpful methods to sell themselves. Our job is to educate. As investors we can help by…
Purchasing unwanted mobile homes.
Paying All-Cash or payments or other.
Buying mobile homes with title challenges.
Purchasing mobile homes that "must be moved".
Closing quickly.
Purchasing mobile homes in As-Is condition.
Allowing the seller to remain in the home a few weeks after closing if needed.
Providing additional methods to resell
Do you have any questions? Please tell us below.
Love what you do daily,
John Fedro
support@mobilehomeinvesting.net
.
Related Videos: