Welcome back,
The summer weather is hot! From Miami to Seattle here is a word you should memorize, Kool-Seal. Kool-Seal brand products have been around for the past 90 plus years. Their main product is used for protecting and sealing tin and metal mobile home roofs. The product is called White Elastomeric Roof Coating. This rubber-based white roof coating comes in 5-gallon buckets you can pick up from Lowes Hardware or order directly from the Kool Seal website.
In fact I so rarely use any other products from the Kool-Seal brand that I refer to process of painting the white elastomeric roof coating a roof top of a mobile home as "kool-sealing a roof".
A few of the Kool-Seal roof coating benefits:
Lower costs on your buyer's electric bill: Reflects heat from the sun.

Protect roof from small falling debris: Rubber seals minor dents and pin holes in the roof. 

Reduce the home's interior heat: Small amount of insulation to keep in hot or cool air of mobile home interior.

Reduce stress on the air conditioning unit by working less: Lower electric bills

Adding curb appeal to the home: The clean white look is noticeable right away.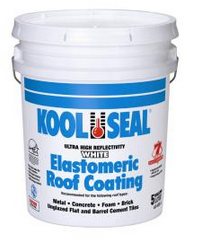 Whether you are planning on renting your investment mobile home or selling the home for all cash I highly recommend picking up a 5 gallon bucket of this roof coating and having it applied during the warm months.
If the mobile home is vacant instruct your handyman to safely paint and roll the roof coating evenly throughout the entire roof.
If the home is already in the process of being sold for monthly payments I would advise you to surprise your tenant-buyers with a free gift. This will help to maintain your investment should you receive the mobile home back in the future. I have given this "free gift" to my tenant-buyers and instruct them to apply the roof coating within 2 weeks or the gift is not free.
Some hints that may be helpful:   
Pressure wash and dry the roof prior to applying the rubber coating.
You may typically only need 1 5-gallon bucket for a single wide mobile home.
You may typically need 2 5-gallon buckets for a double-wide mobile home.
Apply roof coat every 12 months in areas with heavy sun exposure.
Love what you do daily,
John Fedro
support@mobilehomeinvesting.net
Related Mobile Home  Kool Seal videos: