Welcome.
Thank you for visiting this page.
You are likely already interested in personal investment mentoring to both increase your mobile home investing income and increase the speed at which you obtain your desired results. By the end of these few short paragraphs you should fully understand if the Results 1st Mentoring program is right for you.
Before I got started along the path to real estate investing I remember working at one of my jobs as a mobile-phone salesman in Tampa, Florida. A man came into the office and wanted a phone and new plan. I showed him around and he quickly agreed on the newest model phone we kept in stock. While chatting with him I came to learn that he was an active local real estate investor.
If you can remember back to when you were brand new to this business, you too likely had no idea what the term "real estate investor" truly meant or the level of activity and skill that was actually involved. What I did know and feel was my unsettling deep-burning desire to leave my jobs and bust-my-*** to work for myself and invest in real estate to make a great income. I then asked the investor if there was any way I could shadow him or work for him for free.
I will not bore you with the rest of details, however, the investor laughed, rolled his eyes and wrote me off as just another young kid that wanted to waste his time. He could not have been more wrong. His lack of confidence in me did not slow me in the slightest. This was in early 2002.
I tell you this story today for two reasons: the first is because I want you to understand that I knew in my heart-of-hearts that I was ready to do almost anything for this investor if he were to teach me all he knew. We could have partnered or he could have taken my first few deals – as long as he showed me the ropes that he had already climbed. I knew that having a mentor was vital to creating a short-cut to my success and decreasing my trial-and-error approach to the business.
The second reason I tell you this today is because I understand everything that I would have needed and wanted in an investor/mentor almost two decades ago. It is this "image" of a true-mentor that I strive to be for my coaching clients and members. I want to build you into a self-sufficient mobile home investor that is confident, reliable, and an expert in your own area. This is possible only through consistent dedication from both you and I.
Real estate investing and mobile home investing takes daily effort, a little bit of capital, some free time, and a boat-load of determination to succeed. I say "succeed" because anyone can have short-term success with one or two deals. However the ability to create almost any income you wish takes a realistic plan and a mentor for you to work with every single day consistently over time.
If/before we get started on this journey, I must make it clear that I only work with folks that I pre-screen over the phone first. In addition please see the short list of must-haves below that are asked of and required of you before we get started with a mentorship. Note: the items below are not truly required for you to succeed, I did not have money or credit when I started. However, I have worked with enough folks to know that a small amount of money will allow you to get your foot-in-the-door with many sellers.
Available capital in 3 weeks: In approximately three weeks after getting started we will have identified almost every mobile home in your local territory, plus the mobile homes in your surrounding territories. We will know which homes to capitalize on now and move forward accordingly, in addition to future homes we will line up to purchase in coming months. As I have stated previously on this website, a reserve of $3k-$5k is asked of you to make both your start and progression quick and efficient.
Background history: While you will not typically ever require bank loans many mobile home parks will ask to know your credit, criminal, and eviction history before they allow you access into their park. If your background is less than fair you should locate a co-signer just to be safe. We can discuss this more in detail when/if we speak.
Determination: Determination is without a doubt a must have. From my experience, this comes from a deep goal you want to achieve at almost any cost. Over the next year you will be asked to make sacrifices in the name of more cash-flow and a better future.
Following Directions: The formula training you are considering joining has been tested time and time again, and is proven to get results when followed. If you are able to follow directions and repeat what is already provided for you in the paint-by-number examples then we'll truly be able to hit the ground running towards your real estate cash-flow goal.
Low-Pressure Style: The sales style I teach and use in my own mobile home investing business is a "low-pressure" style of educating sellers and closing deals accordingly. If you have been described as forceful or impatient this may not be the best fit for you. I do not mean to discourage anyone, and indeed all traits have their merit. However if you do not truly wish to help others while helping yourself, a mentor more-your-type may be easier for you to work with.
With that said I will be happy to discuss any issue with anyone concerning this or any of the other must-haves above. Until/if we speak in the near future I look forward to our conversation and discussion about your goals. If our paths align, we can discuss moving forward from there.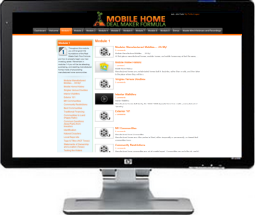 Date: February 20, 2018
1. Platinum Access to the Mobile Home Deal Maker Formula
You will receive LIFETIME access to every form, script, template, tool, marketing piece, Trusts, contract, EVERYTHING that you're ever going to need to run a thriving mobile home investing business both on private land and inside mobile home parks.
110+ bite-sized tutorials teach you by example and step-by-step.
Unlimited one-on-1 phone coaching + VIP Group Coaching Calls each month.
Record keeping software to help analyze your deals and track payments.
All the forms, agreements, Trusts, tools, and training necessary for creating a successful manufactured home investing business. Plus demo/filled-out versions of all paperwork.
Recorded phone calls to multiple sellers, buyers, and park managers for your learning.
2. Immediate One-On-One 120 min Kick Start Call
When you are accepted as a Results 1st Mentoring client we will schedule your 120 minute Kick Start call. During this two hour phone call you and I will create and implement an exact Plan of Action for you in the coming weeks. You will know what you are responsible for and what I am responsible for your success moving forward. We will also discuss a number of other critical facts and mindset hurdles before getting started.
3. Cell Phone Accountability 24/7
There is no one conversation you and I will have that will answer all your questions and needs. Accountability and ongoing mentoring is key for many investors that begin acquiring properties fast while growing a profitable business.
This is why you will have direct access to me. Likewise, I will have direct access to you for timely updates. You are invited to attend our monthly group VIP Calls to dive into deep investing concepts, practice investing exercises, and discuss active case-studies with the group.
Get direct access to me nearly 24/7.

Real help making phone calls to your sellers.

Experienced partner on your side while investing.

Real help crafting purchase offers, analyzing offers, and negotiating with your sellers.

Forms assistance and closing instructions all in real-time

Partnering on your first 3 deals.

Money lending available for future deals.
Our Results 1st Mentoring is intended to secure your first deal within 30-45 days with daily effort. This is a 24+ month intensive, interactive, dynamic, fun, and all-inclusive 1-on-1 program.
Your initial up-front investment to get started is only $2,985. The remaining tuition balance is compensated through simply partnering together on your first 2 Mobile Home Deal Maker Formula deals. These first 2 deals alone will generate many times more than this initial education investment. This partnership-split is an easy 70/30%. If you bring the money to fund your first, second, or third deal then you receive 70% of the profit. If you need me to fund the deal then you receive 30% profit for the specific deal. We will then continue to work closely together for at least 24+ full months.
This program is intended to literally pay for itself while teaching you with an experienced mentor totally on your side.
The below information will be kept private and is for the sole benefit of better understanding your current situation. Once your application is received my assistant will likely call or email you within 72 hours to setup a time to speak confidentially. I look forward to getting to know you better.
---