Welcome back,
In this article we are going to be discussing Land Trusts and Personal Property Trusts and how they can affect your mobile home investment business.
Land Trusts and Personal Property Trusts
Land Trusts hold property with land such as;  mobile homes with land, single family homes, townhouses, condos, raw land, etc.
Personal Property Trusts hold personal property such as; mobile homes on leased land and in park, car, truck, jet ski, coin collection, snow mobile, etc
Definitions:
Mobile Home Personal Property Trusts & Land Trusts:
A Trust is a legal arrangement in which the Grantor (the owner selling the property)sells something (land, car, house, mobile home) in to an established Trust for the benefit of one or more beneficiaries.
A "Trust" is a shell entity. Either you may create this document for free or you may pay an attorney to create this document. A trust can help shield your property's true ownership from the prying eyes of the public, attorneys, almost everyone.
Beneficiary(ies):
Individual(s) or company that receives owner benefits of Trust such as; cash flow, appreciation, tax shelter, income, etc. Each trust spells out the duties of the Beneficiary as the owner. The Beneficiary is typically you or your company when you purchase your investment mobile home. If your state has a Homestead Tax exemption then as Beneficiary this "Homestead Exemption" can be placed on the property if it is the beneficiary's primary residence. A Trust can have a single beneficiary or multiple beneficiaries who may or may not be treated alike.
Trustee(s) =Owner of Record.
The Trustee must sign as buyer and seller of the property at the time of purchase and sale. Your Trustee has the full rights to sell, rent, lease, fix, insure, and refinance the property within the Trust.  Your Trustee should be someone you trust and have 100% confidence in – after all they can legal sell your property as owner of record and walk away with your profits. Your Trust can have a single Trustee or multiple Trustees. Each Trust Agreement agreement spells out the duties, responsibilities, and protection of the Trustee and Beneficiary. A Trustee is often time referred to as a puppet for the Beneficiary. The Trust Agreement also gives the Trustee the obligation to never divulge who the Beneficiary is, unless under subpoena.
The wording in the Trust Agreement is to protect the your Trustee just as much as the Beneficiary.  Your Trustee is not liable for anything that happens on the property. In addition the "person" signing as Trustee is not the same person when he or she is not signing as Trustee. Example below:
Bob Davis as Trustee of Personal Property Trust #123 is not the same person as Bob Davis.
Why do you choose to use Land Trusts and Personal Property Trusts?
Trust agreements are super simple to create. They keep your property safe from probate should the owner pass-away without a legal Will. Your Trustee signs on behalf of the Beneficiary, if the Trustee passes away or gets fired then a successor Trustee is already listed on the Trustee agreement and seamlessly takes ownership.
How do I get  my properties in to a Trust?
The property is sold in to the already-create Land or Personal Property Trust through a "Warranty Deed to Trustee".
Once the home is sold into the Trust the Title or Deed may read:
Bob Davis as Trustee of Personal Property Trust #123, or simply, Personal Property Trust #123.
What paperwork is needed to transfer my property into a Land Trust or Personal Property Trust?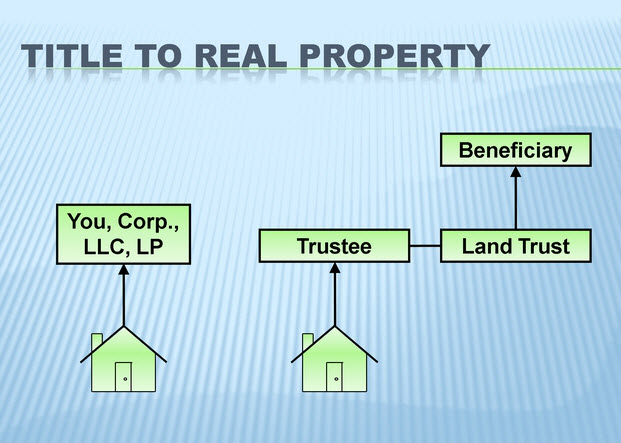 To sell your property into a Trust of your choosing you will need:
A Land Trust agreement or Personal Property Trust agreement you trust.
A Warranty Deed to Trustee to sell the property to the Trustee and place the home into the Trust.
Conclusion:
In conclusion we have only skimmed the surface of the benefits and uses of Trust. Trusts come into play as a crucial factor when we sell mobile homes inside parks and on private land. Your Trust agreements should always stay safely protected in your private files or home safe. Whether you control one property or 50 it may be prudent to have your name hidden from public record. Protect yourself in advance.
Love what you do daily,
John Fedro
support@mobilehomeinvesting.net
Related videos: