Welcome back,
Almost every used mobile home property you come across may need some degree of light cosmetic repairs all the way to structural repairs. Many mobile homes need some repairs, and some mobile homes need many repairs. While recently touring a manufactured home facility, I was able to see firsthand the fairly simple construction of modern-day manufactured homes. While the engineering and safety that goes into constructing these homes is great, the few simple layers that separates the interior and exterior of the homes are relatively easy to understand and work with.
As an investor, you inherently understand the value of properly estimating repairs. Every dollar that you invest making repairs is a dollar you must make back before a profit can be realized.
Part 1: The 3 Common Fallacies About Mobile Home Repairs.
1. Correctly estimating repair costs is priority #1.
Repairs, material, and labor estimates are only one metric when purchasing a used mobile home — and a rather minor metric when compared to others. This article is certainly not advocating repairs do not matter; they absolutely do. "Repair costs" matter because we must know what our buyers are looking for and what repairs must be made prior to reselling quickly for your desired price/terms.
A free and clean mobile home may be a horrible investment if other factors are ignored. Other factors to consider when purchasing mobile homes may include: 
Homes for sale in the community?
Homes for sale nearby?
How these homes are all being sold and days on the market?
Current time of the year?
Local mobile home market environment?
Ability to add more mobile homes to your land? — if attached to private land
Park rules and regulations? — if located inside of a pre-existing mobile home park
Lot rent?
The park's application process?
The attitude of the park management and owners?
What your end buyers want to see and will pay Exit strategies?
Purchasing terms?
Seller's motivation?
Size and functionality of the mobile home?
Address?
Number of bedrooms and bathrooms?
Etc.
Each one of these questions/topics may lead you to a costly mistake and potentially sabotage your entire deal if ignored.
This last sentence is not mentioned to be cryptic or overwhelming. It is to point out that repairs are only one part of the mobile home investing equation. Below we will be discussing many of these repairs in detail.
Pro Tip: Know your clear and realistic exit strategies before making any purchase offers to any sellers.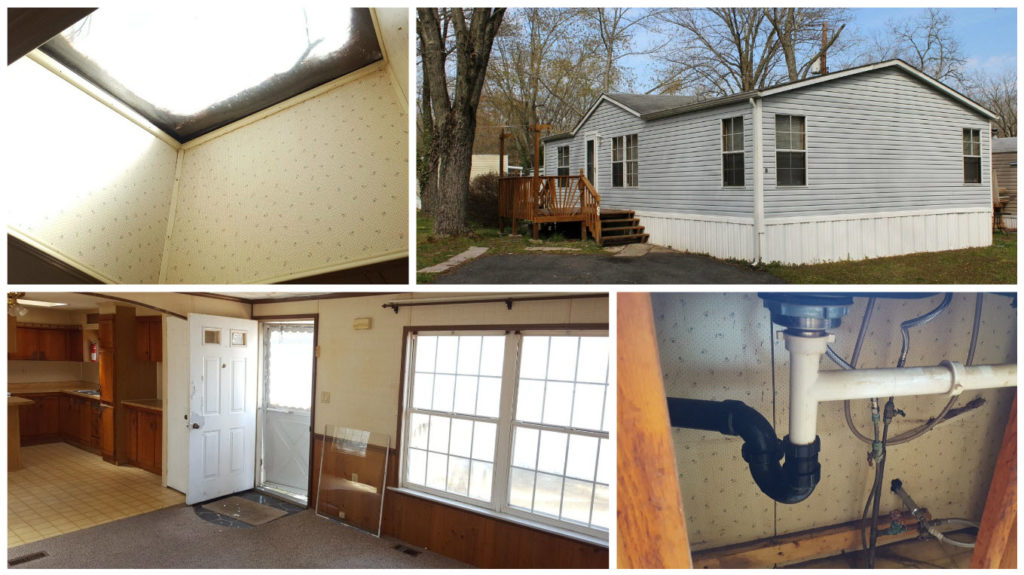 2. You must be an expert to conservatively evaluate mobile home repairs.
With clear vision, a flashlight, and knowledge of what to look for, you will be able to make sure you know what you are buying, or since we cannot see through walls, at least be compensating for the worst in certain situations.
Pro Tip: Some investors like making repairs; others do not. There are pros and cons to making repairs yourself versus outsourcing to others. Wherever you fall on this spectrum is perfectly fine and acceptable as an active investor. All businesses change and morph over time, so be aware of your productivity and time management to know where your time is being best utilized.
3. A mobile home must be completely rehabbed before reselling.
This is a very common (and costly) misconception that most mobile home investors have in their minds. Depending on your exit strategy, not only is this thought process wrong, it goes against what your ideal buyers actually prefer.
Let's face facts — everyone loves a deal, and most buyers would prefer to pay less for a home if possible. With that said, there are certain repairs that will scare off most end-user-type buyers from purchasing a property they plan to move in and live. These repairs may include: 
Plumbing problems and leaks
Electrical issues
Moving and setting up an entire home
Chronic roof, wall, or floor issues throughout the home
Horrible smells
Bugs and/or garbage everywhere
Etc.
Your buyers are likely not made of money. Once the above issues are corrected, many mobile homes can and will sell to happy buyers via an all-cash sale, bank financing, seller financing, or other means depending on your area. Experience teaches that many mobile home purchasers will gladly make minor repairs, such as cosmetic issues, minor painting, minor floor work, landscaping, cleaning, etc if it means they will save money getting into the home. Know what your specific end-buyers are looking for to make a quick purchase. Do not over-improve a property based on what you want or prefer. End buyers vary depending on price points, locations, and purchasing methods (all-cash, bank financing, other).
Related article: Top 4 Mistakes of Mobile Home Flippers
Pro Tip: Listen to the suggestions and feedback from potential buyers walking though your property for sale. If most folks complain about certain issues, fix these problems fast and continue advertising.
With that said, there is of course a certain segment of society that is absolutely looking to purchase a brand new or like-new manufactured home. Cost is of little importance as long as these buyers get what they want. These buyers are the minority that you will come across. Most situations are different. Always disclose, disclose, disclose in writing all repairs needed with any property you resell.
Part 2: Below is a short list of common

INTERIOR

repairs concerning used mobile homes.
1. Roof Repairs
Roof leaks are sometimes inevitable. Minor pinholes from falling acorns or branches can cause significant water damage to a home overtime. Correct the roof by removing and replacing damaged shingles or re-tarring/cementing (using roofing cement) the damaged area. Once the entry point for water is corrected, remove and replace any damaged insulation, mold, and ceiling panels/drywall to cover.
Pro Tip: When a roof leak is identified by water stains appearing on the ceiling, a hole or tear directly above the water stain is typically to blame.
2. Wall Repairs
As mentioned above the general construction layers of these homes are fairly simple to understand. While walls of manufactured homes are expertly designed to keep water out of the home, windows are inevitably left open, gutters will overflow, seams tear, or roof/water leaks travel into wall cavities to rot wooded wall studs and cause mold in warmer climates.
Pro Tip: Push on all exterior walls to verify vertical studs are attached to horizontally running joists at the floor and ceiling levels. Some walls may be wobbly to the touch and/or show evidence of significant wood rot. While this may not void a deal, it should be accounted for in the purchase price.
Cosmetic holes in drywall or paneling can easily be fixed with patches or by removing and replacing entire wall sections. Occasionally some walls need to be rebuilt. Always be sure to hire an experienced and recommended handyman or contractor.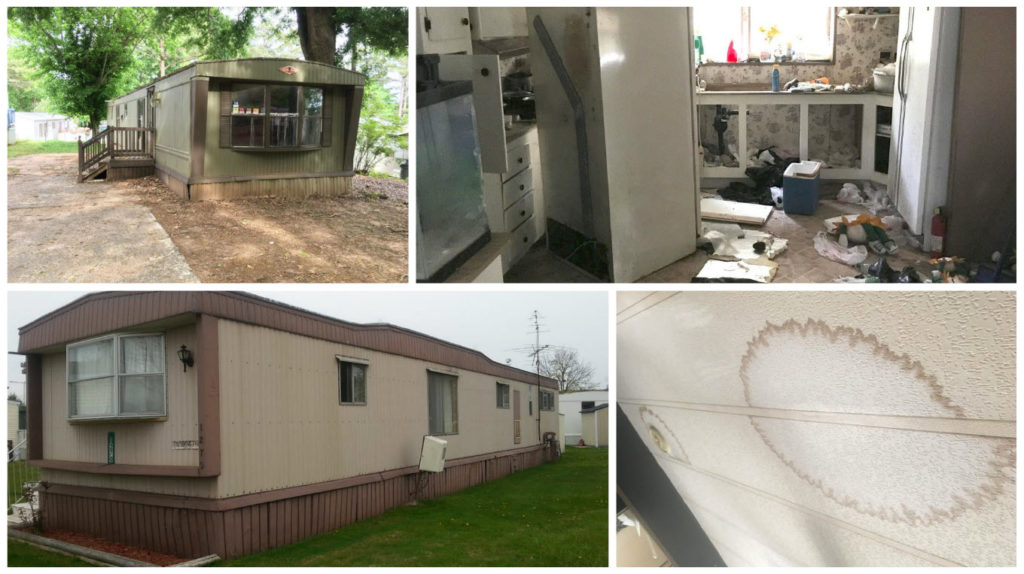 3. Floor Repairs
Over the last 50 years, the flooring material in factory built homes has changed from 1/4 inch compressed wood fiber board to 3/4 inch water-resistant plywood. With better material comes a more water-resistant and safer home. With regards to flooring issues the most common repairs are listed below:
Holes in floors: Cut a square hole around the existing floor-hole back to the surrounding floor joists. Cover square hole with matching square of plywood with same thickness of the existing floor. Glue and screw the new wood square to the nearby joists for a tight fit.
Soft-spots in floors: Cut a square hole around the existing soft-spot back to the surrounding floor joists. Cover square hole with matching square of plywood with same thickness of the existing floor. Glue and screw the new wood square to the nearby joists for a tight fit.
Wavy floors: Wavy floors can be firm/rigid or soft and ready to cave in. Depending on the degree of waviness and softness the floor may have to be removed and replaced, or simply left as is. As a rule of thumb, if you notice a wavy floor than your buyer will most likely notice it as well.
Unlevel floor: This may be due to the home settling over a number of years from the outside due to peers shifting or a poor foundation for which the home sits on. An experienced mobile home contractor or handyman may be able to diagnose the best and quickest fit for this issue.
4. Plumbing Repairs
For the most part, we have talked about rainwater damaging a home. However, any water leak or overflow inside a home can absolutely damage the surrounding walls and floor if left for a substantial amount of time. Before purchasing any homes, make sure to test water lines and listen/look visually for leaks in pipes, water lines, sink connections, appliances, faucets, refrigerator water lines, etc.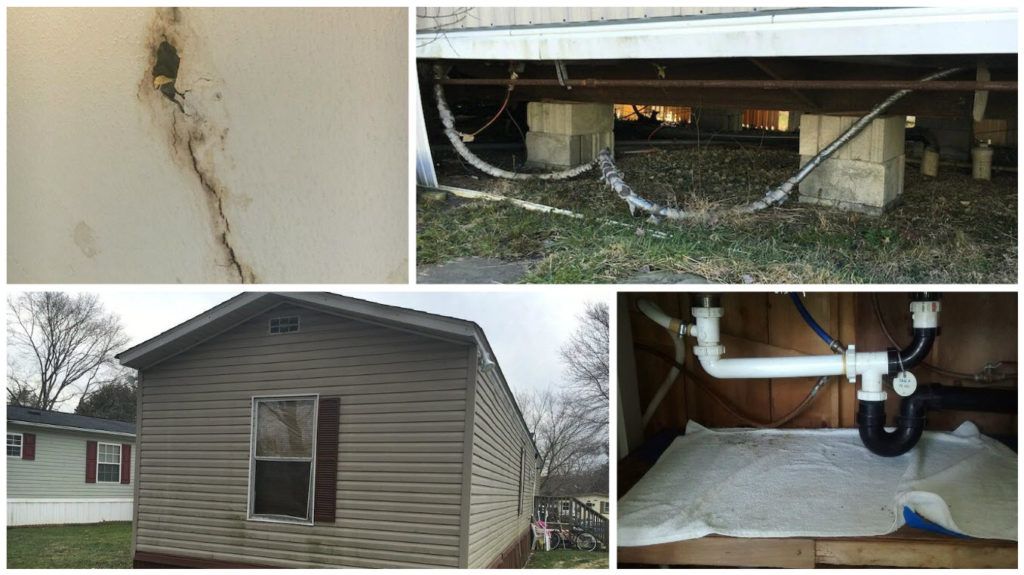 5. Electrical Repairs
While walking through a property to purchase, the electrical service may be connected and powered on. If this is the case, than make sure to check all outlets, appliances, and light switches to see they are in proper working order. Additionally, there should be a suitable number of amps (minimum 100A) coming into the home to power all modern appliances and air conditioning systems.
Pro Tip: If you are uncertain about electrical repairs, breaker boxes, or exposed wires, make sure to bring a licensed and experienced handyman or electrician to give you added clarity and cost estimates to repair.
Turn on power before closing, if possible. If you are unable to test the working order of appliances, water heaters, HVAC systems, or lights and outlets to account for electrical issues in a rehab, then budget a minimum of $750 in case there are any electrical issues the seller forgot to disclose. Hopefully, no repairs are needed, however this must be accounted for if you are unable to verify exactly what you are buying because the power is off.
Pro Tip: If the subject mobile home has been sitting vacant, without-power, for over 6 months make sure to call the local power company to verify an inspection will not be needed prior to power being reestablished. If an inspection is needed the inspector may require many costly updates to be made around the home. This alone may void a deal as Electrical repairs may be very expensive.
None of these mobile home repair issues above are deal breakers unless they are chronic problems throughout a home, and even then, there still may be an opportunity to create value and help local buyers/sellers in your market. As a mobile home investor, it can be important to recoup all our invested capital back as quickly as possible. For this reason, it is sometimes unwise to place many thousands of dollars into a mobile home as repairs, especially if the property will not be worth the added amount once it is repaired. Keep your end-buyer in mind and remember you have to make every property attractive and affordable for this end-user.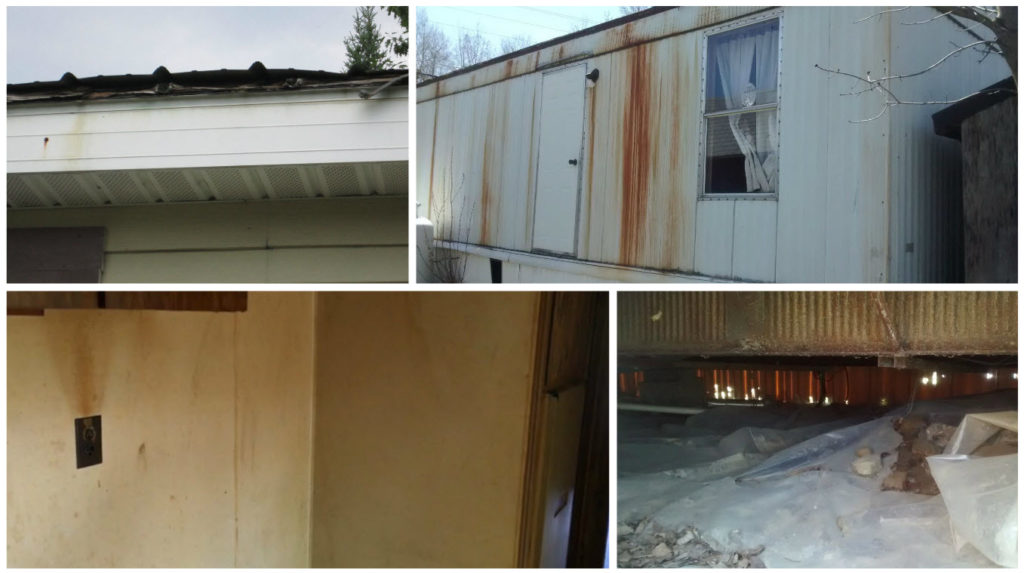 Part 3: Below is a short list of common

EXTERIOR

 repairs concerning used mobile homes.
1. Roofs
Without a solid and water-resistant roof, a mobile home stands very little chance against the elements. As we outlined above, ceiling water-stains and ceiling leaks are the best evidence of an active and/or previous roof leak. However, do not passively accept the absence of ceiling water-spots as an excuse to avoid getting on the roof and walking around if possible. Verify the integrity and strength of the roof by visual inspection and walk on the roof to check for possible soft spots, tears, small holes, weaknesses, waviness, missing shingles, loose material, fallen branches, etc.
Pro Tip: Roof issues do not void a possible deal, however, these repairs must be factored into the purchase price of any mobile home you are considering investing.
2. Siding
When discussing the exterior of the mobile home, we have to consider the aesthetic appeal of the property and the functionality of the current siding to keep the home safe from the elements. An unattractive exterior is not something most buyers want to see when looking at a mobile home for sale. However, an unattractive exterior is preferable to a dilapidated property in need of many exterior repairs. Be on the lookout for waviness, wood rot, holes in siding and skirting, stains, dents, etc.
Pro Tip: Completely replacing or installing vinyl siding directly over aluminum or wooden siding on a single wide mobile home may cost approximately $1,000-$2,500 for labor and material. This work should take no longer than a few days to complete.
Related article: A Complete Guide to Mobile Home Skirting as an Investor
3. Deck/Stairs
Spacious decks can be an affordable way to increase the desirability of almost any manufactured home. Be aware that all stairs, steps, railings, and decks should be up to local codes with regard to their safety and construction. Holes and weaknesses in floorboards or hand railings should be corrected and fixed immediately.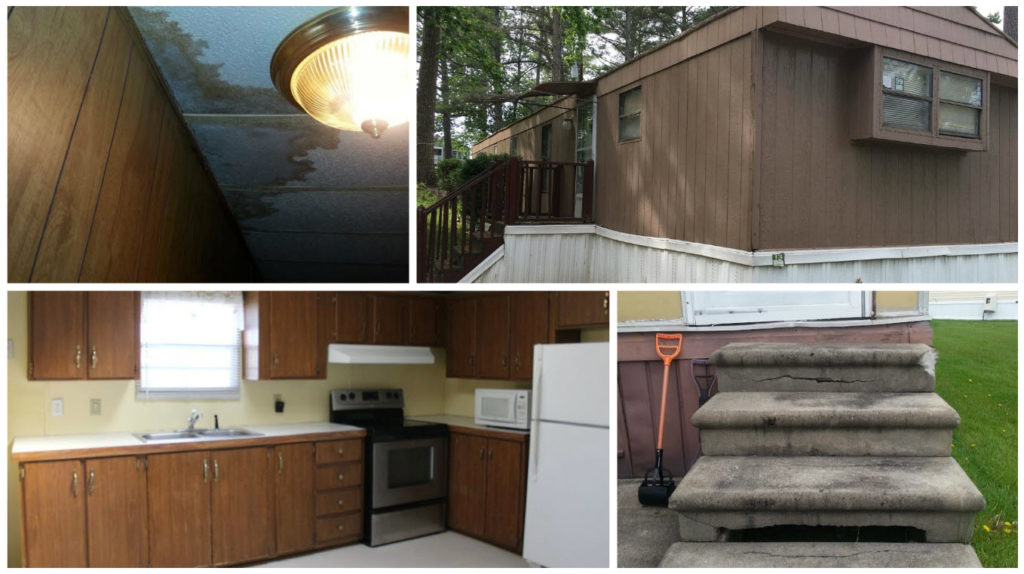 4. Underside
Always be sure to remove a few pieces of skirting and look underneath the mobile home with a powerful flashlight. Some possible things you will notice are:
Junk and debris all over the place
Water pipes seeming to lead nowhere
Insulation hanging down
HVAC ductwork
Stray cats or other animals living under the home
Piers or blocks supporting the home
Before reselling a manufactured home it is important to make sure that the underside the property is protected from animals and freezing weather. In general, a mobile home skirting is ideally designed as a buffer from the outside world and the underside of the mobile home. Ideally, this should keep away vermin and cut down on wind chills under a home.
Before reselling any manufactured home the underside of the property should: 
Be free of most debris, pests, and junk.
Have all the insulation re-tacked to the underside of the home.
Have all the exposed pipes wrapped with working "heat tape" if located in an area with freezing weather.
Pro Tip:
 In areas with multiple months of freezing weather, it is wise to use 1/4 inch plywood to hold the insulation to the underside of the mobile home. This will result in a smooth looking underside that is finished 100 percent with plywood. This will act as an additional weather barrier and pest defense.
5. Location
Whether your manufactured home is located in a pre-existing mobile home community or attached to your own private land, it is crucial to consider the location before and after purchasing this investment property.
Your land: If the mobile home is located on land you will also be owning, then by all means it is important to have curb appeal throughout the property to attract a retail-paying buyer. The cleaning and rehabbing of this land is up to you.
In a land-leased park: If the mobile home is located in a pre-existing mobile home community, then it is important to work with the current park manager and owners to make sure the home's lot looks aesthetically pleasing to most buyers and the park.
Pro Tip:
 Always make sure to account for the local buying-demand and supply for any given area. Regardless of the home you are selling, it must be priced attractively to sell to a low-risk buyer within a fairly short period of time.
In conclusion, there is not one or two things that go into purchasing a manufactured home for personal use or investment. Rather, there are a few dozen moving pieces to consider before purchasing any property for investment. If you are walking inside or outside a subject property, be aware of repairs needed and your initial feelings about the home; these will likely be the same feelings and thoughts many of your buyers have as well. With that said, unless you have experience, it may be unwise to assume you know what local mobile home buyers are looking for. Instead, you may wish to always have clarity of your local market, the subject property you are looking at, all repairs needed, a buying demand once fixed, your entrance and exit strategies, etc. From this position of clarity, you will then be able to structure win-win purchase offers with most sellers and aim to help local buyers and sellers directly in your area.
Questions? Did we miss anything? Please comment below or email me directly…
Love what you do daily,
John Fedro
support@mobilehoeminvesting.net
.
Related Videos
.