Welcome back,
As active mobile home investors it can be wise to eliminate wasteful overspending in your investing business. We already understand that every dollar we spend to repair and hold a vacant mobile home is a dollar that we will have to collect from our buyer or renter before we receive a profit. Some repairs are absolutely critical to quickly and safely selling a mobile home, however certain repairs are of little consequence to most serious buyers.
When you save money, you are able to pass this along to your end-buyers.
Disclaimer: While there is value to be created in almost every market around the country, the repairs and exit strategies will vary. Remember that you are in a unique area of the country. While the advice given below does fit many areas of the country there are certainly markets, cultures, homes, populations, and situations that require additional or less repairs due to a variety of reasons. Never hesitate to comment below or reach out to us personally at the email address below.

Understanding your finances:
Before you invest in any property you should ideally understand the full procedure moving forward, time involved, and capital required to complete the deal at hand. Often times we can underestimate both the repair costs and time required to rehab a particular investment manufactured home to our liking. It may be wise to add a 10%-30% margin to your repair estimates. Take these repair costs into account while creating purchase offers for any potential investment.
Popular ways to sell a used mobile home:
1. Bank Financing: Lending is available both from well-established nationwide manufactured home lenders and your hometown banks/credit unions. When your borrower wishes to be approved at a bank, the buyer, the home, the foundation, and possibly the mobile home park (if applicable) may all be required to pass underwriting guidelines before final approval. This makes some mobile homes unfinanceable.
Related Article: What Mobile Home Repairs To Make Based On Exit Strategy? 3 Deals, 3 Lessons
2. Cash: In most areas around the country there are more mobile home sellers than there are serious buyers with $10,000+ cash looking to buy a used mobile home. This means in many areas of the country the mobile home market may be described as a buyer's market.
However some areas of your state or city may be labeled as "massively growing". In these areas there are drastically more people coming into the city, then leaving. This increased demand typically pushes home prices upward; it can do the same for mobile home prices as well. In areas with very little supply [single-family home buyers] with cash are willing to pay seemingly-large-amounts for used/average/below-average mobile homes due to location. Driving outside of these "massively growing" areas may drastically change the supply and demand of the marketplace. The red areas on the map are a rough outline of some areas around the country experiencing a surge in population growth.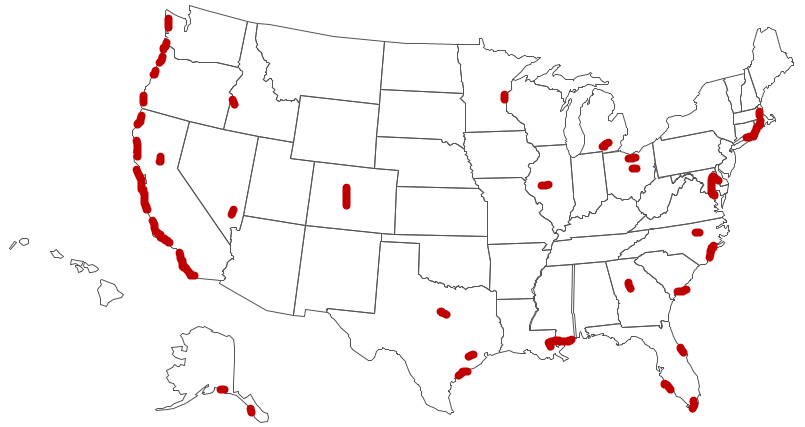 3. Owner Financing: The concept is easy enough to understand, an approved buyer pays a down-payment and monthly payments in exchange for ownership in a property. Once the property is paid-in-full there is no longer any debt owed on the home.
While the concept is fairly simple, newer laws have limited seller held financing when selling to end-buyers living in the subject property. Make certain to follow all state and federal guidelines when advertising, negotiating, and creating paperwork while selling a mobile home via seller held financing.
Pro Tip: A local mortgage loan originator may be able to help with the process of negotiating and originating your seller financed notes. Ask for references at your local real estate investors association.

Budget conscious mobile home repairs:
There are certain repairs that most sellers will run away from. On the other hand, there are certain repairs that many sellers will happily perform themselves if they are able to save money to get into a home of their own. If money is limited and you're looking to make your mobile home attractive to the largest number of serious buyers than please consider the list below.
Related Article: Mobile Home Rehab – Before & After Rehab Pictures 
1. Roof & Ceiling Free Of Leaks: Before you purchase any mobile home feel free to safely walk around on the roof to verify its condition. To solve a roof leak, first locate and patch the roof-hole where the water is entering the home. Next it is important to remove and replace any damaged material including insulation, paneling, and drywall inside of the mobile home.
Pro Tip: If possible, aim to walk-through the mobile home after a recent rainstorm to inspect for active leaks.
2. Sub-Floor Free Of Soft-Spots & Holes: Fix a manufactured home's sub-floor if it is noticeably damaged, noticeably soft, or missing. New plywood should not be laid atop old/damaged sub-floor. Instead, any old or damaged sub-floor material should be removed and replaced with an equal thickness plywood.
3. Interior Walls Free Of Substantial Holes: Any holes larger than 2″ in diameter should ideally be corrected. Use the same material to stay consistent with this construction of the mobile home. If drywall is being used then patch the drywall or replace with new drywall. If paneling is being used then you may choose to remove the entire 8′ x 4′ panel and replace with a new matching 8′ x 4′ panel.
Pro Tip: Remember the first thing you notice about a mobile home will typically be the first thing a potential buyer notices as well.

4. Plumbing Works: Most plumbing repairs should be handled by a professional.
Pro Tip: It may be wise to turn off the water while showing a property. Make sure the hot water heater is drained and the breaker to the hot water heater is shut off. Also aim to tape down the toilet seats to prevent potential buyers from using the restroom accidentally.
5. Electric Works: Most electrical fixes should be handled by a professional.
Pro Tip: Always disclose any known defects to any renters or buyers. When in doubt, disclose-disclose-disclose. Make sure your buyers know exactly what they are purchasing. Never aim to mislead anyone.
6. Appliances/AC/Heat Source Functions Properly: In many parts of the country it is customary that a mobile home for sale include a refrigerator and stove in the sale. Most end-users that are purchasing the home to move-in will not have a spare refrigerator or stove they will be bringing with them. While it may be wise to include refrigerators and stoves for your end-users, clothes washers and dryers are not typically provided.
When purchasing a used mobile home: Broken appliances in a mobile home is not a deal-breaker when you purchase, however these repairs should be taken into account when making purchase offers to the sellers. Before purchasing any real estate always make sure you know the condition of all appliances, air conditioning systems, swamp pumps, heating sources, hot water heater, etc. If you are unable to test these items due to the power being off or the temperatures being too extreme than a professional should be called in and/or power should be turned-on to verify condition. Without verifying these items are in proper working order it is wise to assume that the appliances are broken and you will have to repair them or replace them accordingly.
Pro Tip: As an active real estate investor make sure to be very conservative in your estimates. Overestimate the cost and time repairs will require.
7. Sweep & Vacuum Inside (if needed): Cleaning the inside of a mobile home can make a big impact. Allow the potential buyer to envision themselves living inside a clean and vacuumed home.
8. Remove Furniture & Junk (if needed): Hire inexpensive laborers or advertise for people to come locally to take your furniture and miscellaneous items from your property. For most light rehabs a designated roll-away dumpster will not be needed.
Pro Tip: If the mobile home includes any items of mild/moderate value that you do not want but other people (on Craigslist, etc) may be very interested in, it may be wise to require the person taking the valuable item(s) also remove 100% of the other junk and items in the home for you. This may require a truck and/or trailer from the picker. This allows a motivated person (the picker) to take away all/most of your junk/items/furniture for free and in exchange they get to keep all the items of value (win-win).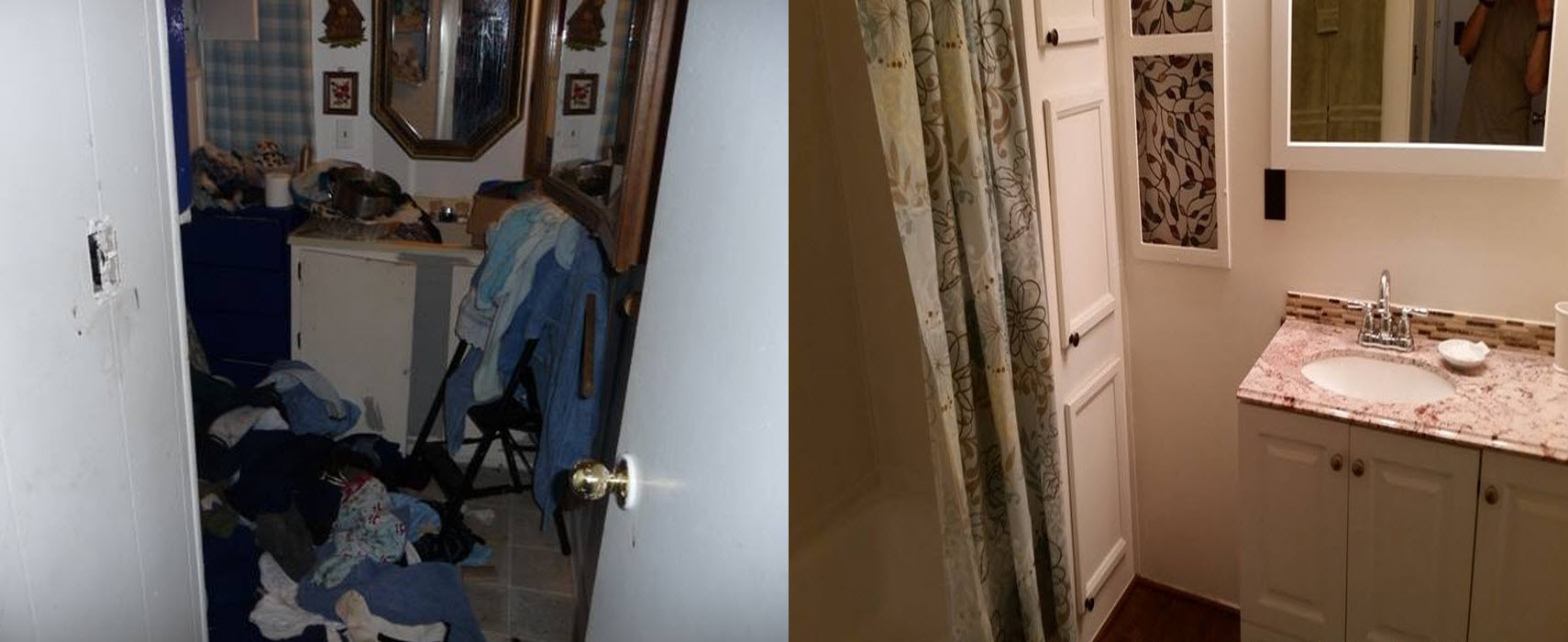 9. Remove Bad Smells (if needed): Try vacuuming and/or disinfecting away any smells as a first plan of action. If the odors persist then the smell may be trapped in the carpets, walls, and/or sub-floors. If the smell is trapped in the carpet, pad, and/or sub-floor – then the carpet and pad may need to be removed and a coat of primer/paint be applied liberally to the plywood/OSB sub-floor. This primer-paint helps trap the smell into the sub-floor allowing you to place new carpet or tile without the smell coming through.
10. Remove Stray Animals & Bugs (if needed): Remove animals and bugs. Hire a professional if needed.
11. Pressure Wash Exterior (if needed): If your first impression while driving up to the mobile home was, "This is a dirty mobile home!" then a pressure wash may be needed. Hiring a professional to pressure wash the roof and exterior walls will take less than a few hours of work and ideally less than $200 for a singlewide and $300 for a doublewide. Make sure to call around to local companies/handymen to compare rates.
12. Carpet/Paint (if needed): Aim to salvage a mobile home's floor covering if possible. If the current carpet is usable then it may be wise to keep it for now. Recarpeting and repainting an entire mobile home may typically cost between $1000-$3000+ depending on the time and materials used. Before investing this significant amount of capital understand your exit strategy and the mindset of your buyers. (Ask for help if you have questions.) Listen to all the potential buyers walking through your property; if many of them are mentioning the carpet and/or paint than it may be time to address these issues. After helping multiple local buyers you will naturally become more experienced with your local market and understand the mindset/wants/needs of your buyers.
Pro Tip: In areas with a fast growing population it is very possible to sell mobile homes for a high-retail cash price. In these areas aim to replace/upgrade carpet and fresh paint if selling for a high-retail cash or bank financed price
In conclusion, please keep in mind that some mobile homes you look at will need none of the repairs listed above. Other mobile homes may require a great deal more to rehab before selling. As investors we not only have to think of our sellers when we are purchasing our mobile homes, however we have to understand the mindset of our buyers and sell with our buyers in mind. After you've purchased and resold a number of mobile homes the process of buying, selling, repairs, and management will become a bit more predictable. Until then aim to invest safely and help others daily.
Anything we missed? Any additional repairs you would make?
Love what you do daily,
John Fedro
support@mobilehomeinvesting.net
Related Videos: