Welcome back,
Normally selling mobile homes is the easier part of our investing businesses as mobile home investors (when selling via seller financing). There are a few occasions why selling a mobile home may be more difficult than you initially believed. These few occasions can be found below.
Proper due diligence was not performed before the home purchased and a mistake was made/missed in assuming it would be easier to sell than it truly is. This may likely revolve around the park's application process, park management, location, hidden liens, serious damages or molds, functionally obsolete floor plans, etc. Most other issues can be repaired.
Or in Dan's case he was following his heart and taking care of his buyer. (Read below for more information.)
The Home/Deal: 1979 3/2 mobile home purchased for $4,000 cash. Repair cost $28,000+. 90 days rehab time. Final sold price $59,000. Buyer paid cash once she sold her primary single family home.
The Sales Story: Over the last 7 months, Dan, a Colorado mobile home investor has been patiently waiting for one of his investment properties to close so he may walk away from closing with over $25,000 in earned profit. The mobile home had been under contract for the last 7 months from an eager buyer that was waiting for her primary residence to sell to buy Dan's investment mobile home in a peaceful park near the mountains.
Related Podcast Episode: Mobile Home Brokering & Wholesaling
Although Dan chose to wait around month after month in order for this particular buyer to purchase the property, there were some benefits that were rewarded for his patience. During this one single deal Dan was able to:
Pro: Expand his knowledge of mobile home repairs.
Pro: Gain respect with the park managers, park owner, and residents by turning a park eyesore into a beautiful mobile home.
Pro: Work with a few new mobile home handymen that he will continue to use moving forward.
Pro: Profit over $25,000 to invest in additional mobile homes.
Pro: Avoid 50% of holding costs by having the potential-buyer pay lot rent for 5 months while her home is being sold.
Pro: Attract approximately $30,000+ in additional mobile home related business by having his signs and advertising in the window of this home for the last 10 months.
Pro: Build a relationship and friendship with a very happy and sweet lady that finally did purchase the property.
Con: To be fair a negative of waiting around so long for this deal to close was keeping Dan's capital tied up unable to reinvest this money in more mobile homes immediately.
Reminder: Keep in mind that Dan did not have to continue to work with this sweet lady who wanted to purchase his property. While she was offering him a very nice purchase price of $59,000, Dan could have always remarketed the property with the aim to find a buyer who had cash-in-hand or was already bank finance approved.
Pro Tip: Aim to have experienced investors nearby for you to bounce ideas and questions off of. If you are investing in real estate by yourself you simply may not have the experience of investors that have already lost money, time, and energy with simple or advanced mistakes you may or may not already be making.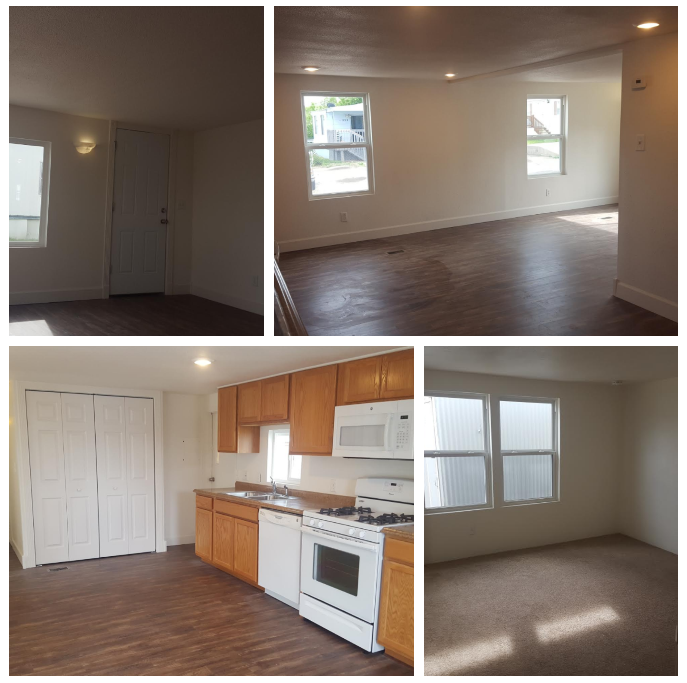 Path of least resistance:
Throughout this one deal there were two obvious times when Dan did not follow-through with the path of least resistance. However he pushed through because he wanted to challenge himself, grow, and profit handsomely.
1. When Dan was first deciding to purchase this rundown home he knew it would be the largest rehab he ever undertook. I personally remember Dan mentioning that this would be a "crash course" in mobile home rehabbing that he wanted to learn all about. Dan was excited to further his knowledge about mobile home repairs. Additionally, the profit potential in this property obviously made the deal worthwhile.
2. Dan made the conscious decision to continue aiming to sell to a woman that had to wait for her primary property to sell first. This woman could not pay for Dan's property before her primary residence was sold. Because Dan wasn't exactly sure when this buyer's primary home would finally sell, he waited around 7 months for this woman's home to finally sell so she could buy from Dan. While this potential buyer could have backed out anytime prior to the sale, her primary residence did eventually sell and she was happy to pay Dan the agreed upon price.
Always know your options:
Throughout almost every transaction and deal you perform, it may be wise to consistently be thinking in you mind, "If _________ scenario happens, then I will do _________."
If the mobile home's title is missing then I will call the state to get to the bottom of obtaining a duplicate.
If my seller needs help with moving then I will arrange for myself or a hired-crew to move her across town.
If my handy is a no-show again then I will ask him to leave.
If I find damage underneath a broken bathtub I will then repair only what is needed and replace the tub.
If I don't know the answer to a mobile home related question then I will email support@mobilehomeinvesting.net.
As real estate investors we may want to be constantly be weighing and judging our options and possible decisions moving forward. This may help encourage thinking creatively and thinking-outside-the-box to solve problems while investing. Because we are in charge of our finances, deals, repairs, marketing, selling, buying, negotiation, etc. it is important to have complete clarity on your situation, options, exit strategies, and your plan moving forward.
Pro Tip: The more problems you are willing to solve, the less competition you will usually have.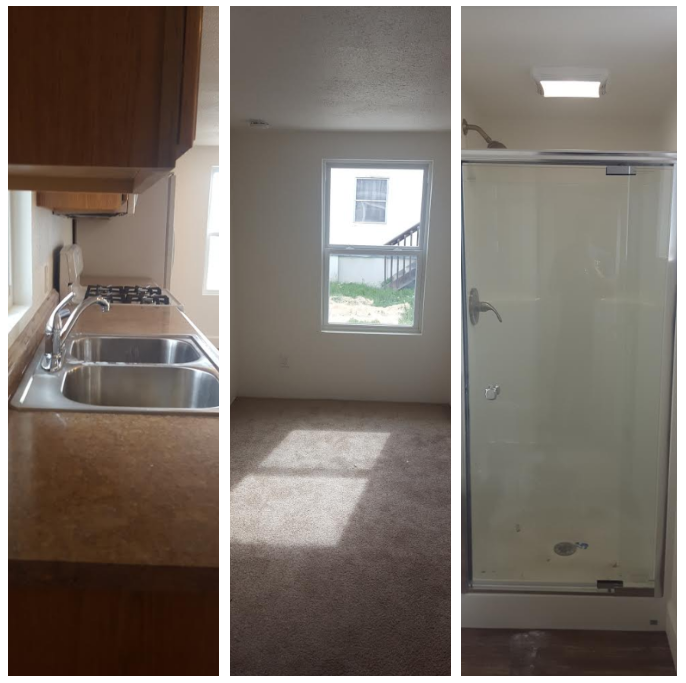 Repair Outline: (Thank you Dan for sharing your repair costs.)
Repairs – Price Paid
Dan's Notes (If applicable) 
Sub-floor repair throughout the home – Roughly $1,500
This was two bathrooms, the laundry room, the hallway, the front door and the floor registers in the living room/kitchen.
I have a really cheep guy. My carpet/installation was included in the installation price of the Vinyl floors. It costed $1,600. I eventually paid $150 to another floor guy to make a repair.
Vinyl Plank flooring – $914.12
Finishing the washer and dryer area – Roughly $2,000
Hard to say with this one because part of it was in the sub-floor cost. Price includes demolition, plumbing, floor, dryer vent, electric, light install, re-frame, and closet doors)
Microwave $100. Brought in a fridge from another house. Fridge parts/repair $210. Swamp cooler maintenance/tune up/winterize $100. Oven (replace old/install new/delivery = $593 w/ tax)
Interior painting/texture – $5,385 (Includes roughly $600 in supplies)
Paint/trim every room and doors (including closets and ceilings) + interior drywall tape texture for walls and windows.
Exterior painting – $580 (Includes $80 in supplies)
Paint shed, soffit, and fascia.
Recessed lighting –  Cost of lights
This was actually "free." My guys wanted to have it done. Lights were cheap if I recall.
Kitchen cabinets – $3,760
I overpaid for cabinets. I chose to go with a guy who bought two homes from me, whom was debating on selling those homes.
Drywall work in living room and kitchen area – $1,000 (Labor only)
Drywall work in bedrooms – $1,000 (Labor only)
New windows – Roughly $2,000
Made sure windows are City Code approved.
Insulated 2 pipes underneath home – $50
Plumbing work in kitchen and bathroom – $600
Electrical work – Roughly $700 (labor and material)
Electrician recommended by park manager.
Insulation added – Roughly $500 (labor and material)
Some insulation was left by seller.
Professional cleaning – $200
I had the buyer do this for $200. She's a professional house cleaner.
Roof #1 = $4,500. Roof #2 after hail storm paid for with Insurance claim cost $5,000 as shingles were more expensive.
Vinyl siding and skirting – $1,250
(Supplies $800 and Installation $450)
Total Repairs Approx. $28,992.12
Includes the bathroom remodels, re-framing of closets/walls, door hanging, new front door (needed to cut the wall, siding), re-frame every window/install windows, and fix steps.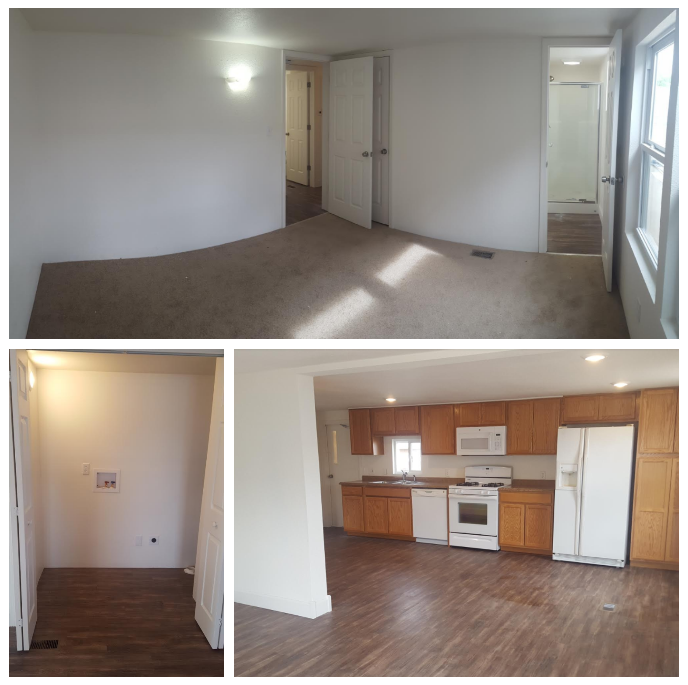 Buying correctly for the area and exit-strategy:
Dan is no dummy. He knew that in his hot-market a nicely rehabbed 1970s 3/2 double-wide manufactured home could sell for around $60,000 cash or bank financing in this particular mobile home park. While knowing this he purchased the property at only $4000 believing that he would put about $20,000 into the home. With that said unexpected repairs and improvements did arise causing him to invest approximately another $8000 into the property. This home is now better than ever. Because Dan was selling this property to a buyer that was bringing cash or bank financing to closing, he knew he would receive 100% of his profit and 100% of his invested capital immediately back upon closing with the buyer.
The above paragraph outlines the comfort you may have if you are in a market where you can easily resell a mobile home for all-cash for many thousands of dollars. These markets include some metropolitan cites, coastal areas, and mountain towns described as very-hot markets. If you are in one of these areas then you may feel rather safe over improving a mobile home because you know there will be a buyer with cash to pay you a high retail price for the home quickly. In this way Dan was protected and could have obviously invested more money or sold for a cheaper price and still have been profitable.
Pro Tip: As an investor always know your very realistic exit-strategy, repair costs, holding costs, and selling numbers before making any purchase offers to buy any mobile homes.
Around the US: Around the country this luxury of selling beautifully rehabbed 1970s mobile homes for all-cash of $40,000+ is not the norm. Instead, many mobile home investors rely on selling mobile homes via structured monthly payments to low-risk and qualified buyers. Remember to follow local/federal seller financing laws and/or consult with a local loan originator when unsure. One major difference when selling via payments versus all-cash is that you may not recoup your invested capital until your payment-buyer has made you a down payment and enough monthly payments to recoup your initial investment plus holding costs and repairs. This may take a few months or even a few years to break even if you invested a sizable amount of cash into a particular home.
Pro Tip: When selling via monthly payments aim to break even with your invested capital in 6-12 months or less with many mobile homes built prior to 1990. On mobile homes 1990 or newer aim to achieve 100% ROI in 6-24 months or less.
In conclusion mobile home investment opportunities look different from state to state, city to city, park to park, and home to home. There is certainly much to know and watch out for when it comes to being an active and profitable mobile home investor; however it all starts with you reaching out to local sellers, parks, and buyers to understand your local market and begin making a massive amount of purchase offers on used mobile homes. While we may want to always make the best business decisions, often times our Hearts may get in the way of our logic. Sometimes this heart-felt decision works out to our benefit, and other times we learn a valuable lesson. Either way it is important to focus on moving forward and helping local buyers, sellers, other investors, and parks. Always be open to learning new lessons, asking questions, and finding out answers before you need them.
Did we miss anything? Please feel free to list any questions or concerns below?
Love what you do daily,
John Fedro
support@mobilehomeinvesting.net
Related Videos: